Tuesday, January 04, 2005
Stooge-fest hits Puerto Rico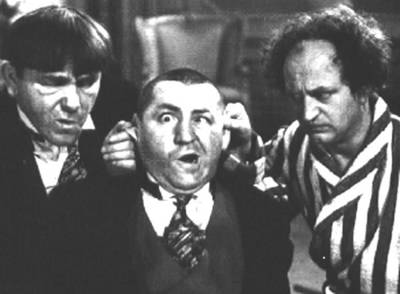 the mets are making a push for carlos beltran in puerto rico.
newsday
is saying the mets are opening with a $100M pitch.
strange thing is right after pay-dro was saying he really appreciated how minayacal omar met him 1-on-1 unlike the cadre of suits boston presented, the mets now decided to attack carlos with a full on stooge-fest. freddie and old, disposed charcoal briquette joined omar for the trip. not wanting to be outmanned, omar had to bring along one of his superscouts, tony bernazard.
for his part, beltran had to, of course, bring his superagent, scott boros. boros felt compelled to bring lackey tom fiore. fiore brought along his doberman, sparky, to even up the sides.
i'm sure freddie's ego didn't like much the fact that omar got so much of the credit for overwhelming pay-dro with more years and money than anybody. actually, we all know it was freddie opening up the wilpon vault and getting the necessary swing votes over the top for approval that actually got the deal done. omar had thanksgiving paella with pay-dro, some more schmoozing and cocktails later on, and a share of the spotlight during the pay-dro media conference.
freddie has to make sure he's more prominent in this beltran business going forward.
Post a Comment