Monday, January 10, 2005
METS SIGN HUMBER
it took seven months, but the mets
announced the signing of last june's #3 overall pick, phillip humber
. minayacal omar and crew are really getting things done. unfortunately, humber wasn't locked up early and given a nice look-see at AA last year in the same rotation with a scott kazmir (finally healthy after a weak spring), matt peterson, and joselo diaz all pitching to justin huber. maybe a concrete touch of the very near future would've enabled the idiots on top to not throw them all away for a couple proven stiffs in a laughable playoff run attempt.
Cubs still view Flushing as a Sosa dumping ground
.... or at least the
chicago press
does. after a deluge of "what if" articles coming out of the windy city for weeks, saying the mets could still turn to sosa if they failed to get beltran, they now want to believe that the mets (and specifically minayacal omar) can still sport serious wood for sosa even with beltran in the fold for mega-millions.
How about Sosa, Kyle Farnsworth and cash to the Mets for Floyd, Jae Seo, Aaron Heilman and a prospect or two? That move, or one like it, could be made by the end of the week, or at least in time to get Sosa on the cover of the Mets' media guide alongside Martinez and Beltran.

The Cubs then could use the money they save to sign Magglio Ordonez.
wow, that would be a sweet deal for the mets, huh? let the cubs unload their two clubhouse pariahs so they can go get magglio ordonez. how about the mets cut out the middle cubbies and just go get magglio themselves? nah, that wouldn't sell papers in the south side.
[The Mets] landed the biggest prize of the off-season—at 27, Beltran is 14 years younger than new Yankee Randy Johnson—and might just return to the playoffs next fall. Their odds increase if they keep working until they have Sosa.


you think this writer wears those lindsey nelson used-car salesman suit jackets when he writes this stuff?
Sunday, January 09, 2005
Kazu-"O for four" Matsui is directed at the counterattack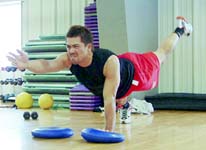 for those mets fans wondering what's up with kaz matsui, his health, and how he's preparing for the switch to 2B this upcoming season, just click on his photo for a googlized japanese translated article.
like all online translations, it's brutal and hilarious.
HOLY SHIT, CARLOS BELTRAN IS A NEW YORK MET!!!
all
reports
are indicating that scott boros and the mets are putting the finishing touches on a 7 year/$119M contract. thank you, god! the mets finally have their young, primetime stud centerpiece to build this franchise around.
hot damn, carlos and pedro?! the mets haven't been such big players since wilpon/harazin stunned the baseball world by signing bobby bo, vince coleman and eddie murray (well... maybe we shouldn't go there).
mets fans finally have something to get buzzed about now. no, beltran and pedro martinez don't instantly vault the mets into the playoff picture. there are still multiple holes to fill and multiple roster spots to upgrade several notches. the cliche buzzword being thrown about is "legitimacy," and rightfully so. after firmly establishing themselves as a bizarre, inept, clownish laughingstock, the mets needed this kind of splash this winter to invigorate themselves, the skeptical fanbase and the baseball world that the mets are big league players. the mets are the national league franchise in the capital of the world. it was time to act like it. this earnest off-season endeavor to truly get proven major league stud talent is exactly what the fans wanted. hopefully, it's not over.