Saturday, April 30, 2005
NEWSFLASH: JOSE REYES HIT BY PITCH!
at first blush, it seems just like any other mets game. victor zamboozled sucked mule ass again. the deadwood offense couldn't do shit against the opposing starter again. manny ay caramba came in and did his shit again. the mets mounted a late game rally against the opposing bullpen that came up short again. the mets lost... again.
the top of the lineup was hitless and walkless again. but wait a sec there.....
jose reyes got hit by a pitch!
i swear to god it's true. it's the first time ever in his major league career, so this is a gigantic whoop. i've seen him get hit twice before. once in his rookie summer, and once very early this year. both times he got hit in the foot. both times he swung at the pitch for a strike.
check the stats for jose now:
avg: .260
obp: .267

this is exciting stuff. mets fans are wetting themselves all over the world. i'm half moist, too.

So-so Seo and the Mets drop another
jae seo's ultra rare run support dried up after one game, but he didn't do himself any favors either. nursing a 1-0 lead for 3 no-hit innings, the nats finally broke through in the 4th inning with a solo line drive homer from jose guillen to tie the game up. then in the 5th, seo gave up dingers to brian schneider and livan hernandez. that was unforgivable. you can't let the girly hitting catcher and opposing pitcher take you deep.
those were the only hits seo allowed in 5 innings, and it was enough to get him the loss. the mets brought the deadwood lumber to the park again. the hits were there, but never in the clutch. the late inning rally attempt was futile again.
same lousy themes as always to consider:
jose reyes is a pathetic major league leadoff hitter
mike piazza's descent down the slippery slope is nearly over as approaches rock bottom at the end of a HOF career
this bullpen is horrible and heath bell/royce ring are not short term saviors (believe me)
manager willie has stuck with the same dysfunctional lineup for a month now. is that enough time to gauge what the hell is wrong and finally mix things up?
vic diaz is starting to cool off in the 8th spot as teams wise up to the fact that the pitcher is on deck
this rotation is frightening beyond pedro. we need guys to stretch it out more so the frightening same crap from the bullpen isn't trotted out there everyday
and so with that, the mets look to finish april on a winning note and get out of the month with a .500 record. i said i'd be happy with a .500 april. of course, that was when the mets stumbled out of the starting gate and planted their face 5 feet deep in the mud. now, i'll still take .500, and hopefully a month under his belt is all willie needs to take this lifeless, inconsistent team by the neck and give it a damn good shaking for may and beyond.
the mets look to victor zamboozled tonight as the stopper. he's due for a quality outing. i hate him so. go zammy!
on the injuries front, both anna benson's husband and cammy are doing st lucie A ball rehab gigs and their returns are imminent. will that be a boost or a downer? beats me. you tell me.
on the minor league front, phil humber has also returned from injury to the st lucie mets. yusmeiro petit is having his pitch count increased at binghamton. brian bannister is 4-0 and virtually unhittable for the bingo mets. jason scobie is 4-0 for the tides. the prospect arms are all healthy and really looking tremendous on every level. can't say the same for the bats. the tides are being supported by major league vets. they have brian daubach, benji gil, gerald williams, and mike difelice in the everyday lineup. yeah, we know they can overmatch AAA pitching, but are they usable parts for the mets? i don't think so. jeff keppinger continues to impress though. his road is blocked by kazuo at the moment, though. at binghamton, there are legitimate prospects like aarom baldiris and mike jacobs who are working on position changes. then again, prentice redman is still there for what, his 12th year or does it just seem like it? at st lucie, lastings milledge is a real bust. he hit the wall there last year after a mid-season promotion, and he still can't adjust this year. he's also got his annual april hand injury. shawn bowman, the hyped up brooks robinson with the glove, also can't hit his way out of a wet paper bag. one step lower at hagerstown, superhype job, ambiorex concepcion, can't hit a breaking ball for his life.
Thursday, April 28, 2005
It was 40 years ago.... in August
you hear the words "shea stadium" and we naturally think of our beloved new york mets. others may think about bouncing seats at new york jets games. for many people who have no idea what baseball or american football is about, they hear "shea stadium" and they think of the beatles.
august 15th will be the 40th anniversary of the beatles playing shea stadium. since this current shea probably won't be around for the 50th anniversary, i think it'd be a cool thing to have some sort of commemoration. that was a huge deal then. imagine a rock and roll band doing a show in a state of the art baseball stadium seating over 55,000. i wasn't born yet and the only concert i ever saw at shea was the pruny rolling stones in one of their 17 farewell tours. the beatles are the beatles though, and this was 1965. being as big a beatles fan as i am a mets fan, this is some pretty big shit, imo. so do a bunch of other people, too.
contact: customer_relations@NYMets.com
the mets are have a day off on august 15, so i guess nothing will be happening then. they do return from a west coast swing though on august 16th. the only thing the mets have planned around that time is another kind of meringue night concert deal and nothing beatles related. so tell them you think it'd be cool to commemorate the 40th anniversary of the beatles rocking shea in some way.
the beatles also appeared at shea in 1966 (see below):
Wednesday, April 27, 2005
glavine + braves = met killer
maybe you're figuring tommy boy glavine is a better fit for a parody on "tommy - the rock opera" than kaz. nah. except for the name, tommy, what else fits about glavine. he's not deaf, dumb or blind. he's just old and over-the-hill. his act has long grown stale here. i actually thought the mets were fortunate when he squirmed his way out of jams in the first couple innings. "hmm," i thought, "maybe these are the NEW mets. glavine and the old mets would be down 5-0 right now and never come back."
unfortunately, it all caved in quickly soon after that. glavine, again, did not have anything resembling major league quality pitching. he was hittable and tossing meatballs up there. it seemed as if he were yelling out to the batters and asking where they wanted it. andruw jones broke out of his season slump, thanks to tommy boy. mike hampton looked good with his usual slop crap, thanks to tommy boy. eddie perez and wilson betemitavegamin added insult to injury by hitting back-to-back jacks. that's humiliating. who the fuck is wilson betemitavegamin anyway?
it was a disgusting affair and there's really not much to dwell on. it's never nice to lose another series to atlanta, but it's old hat, isn't it?
non-interesting tidbits
:
mr. electricity, jose reyes, stunned the shea crowd with a strike out, no walks, and a 1-5 effort. that pretty much sums up his season at shea so far: a .200 avg/obp.

vic diaz ended the inning 4 times batting 8th. that meant the mets had the pitcher's spot, jose reyes and kaz matsui due up 4 times to start an inning. needless to say, they were all scoreless innings.
after going 2-5, kaz matsui has the same batting avg as jose reyes now: .271. kaz's obp is .329. jose's obp is... well, you know.
the mets had their best rally chance in the bottom of the 8th, loading the bases with no outs. a wild pitch scored piazza. floyd advanced from 2nd to 3rd. for some unknown reason, david wright remained on 1B. a possible linedrive sac fly to RF followed, but floyd wasn't near the bag and ready to tag. then the inning ended on a 6-3-4 double play because wright was on 1B and not 2B. it was all too bizarre, and all too typical of the mets total retarded lack of fundamental skills.
i said to watch and see if the mets showed any fatigue after playing their 15th game in 15 days. well, they came out braindead. it's a day off tomorrow and off to DC for four.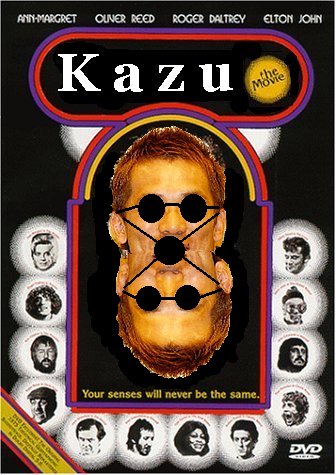 poor kazu "0 for 4" matsui can't play baseball that well (at least not in this hemisphere). he's blind. just can't see. that goes a long way in explaining why his reactions are so slow in the field, in the batter's box, and why he doesn't attempt steals that much. last night, he didn't hear willie calling out to him that he was being pinch-hit for by mikey piazza. jeez, kaz is deaf too? worst of all, despite all the problems fans might still have a chance to like him if they could communicate with him. alas, kaz only speaks japanese. his "personality" is non-existent for mets fans. he botches up things and we get dry patter thru a translator or curt excuses from the manager. essentially, for english speaking fans, kaz is dumb (as in mute).

i feel for him. the expectations were high. his cost is high. he's been as disappointing as carlos baerga and roberto alomar. just a complete reverse of what was advertised. he's still in the lineup everyday, so i root hard for him, but unfortunately at this point, my pity and hope don't equal my disgust. he just a deaf, dumb, blind guy. but he sure plays a mean pinball.






Tuesday, April 26, 2005
Rally falls short. Mets fall 4-3.
ouch, this one hurts.
it was a pedro vs smoltz rematch tonight. the first one back on april 10th lived up to all the billing as pedro won a complete game 2 hitter for the first victory of the season for the mets. smoltz wasn't too shabby either that afternoon with 15 K's and looking unbeatable until the mets offense finally came to life in the 8th and 9th for 6 runs to snap that opening 5 game losing streak. that was the first of many late inning blitzes by the mets against the opposing bullpen.

pedro didn't bring the A game tonight. he allowed 3 er in the first and another in the 3rd. it was a 4-1 hole the mets would never get out of. smoltz didn't have his A stuff either, but he was getting by. the mets offense woke up late in the bottom of the 9th and tried valiently for some more late inning heroics against the braves pen. after plating 2 runs, cliff floyd popped out for the final out with piazza on 3B and beltran on 1B.

it never feels good to lose with pedro on the mound. we follow up now with tommy boy against his beloved braves, and that's never a pretty sight. then we go through with whatever until it's finally pedro's turn again. one more game against the braves, then a day off, then off to DC for 3 against the nats, then back home for 4 against philly, then onto milwaukee and chicago. it's a criss-crossy schedule up ahead with little time to catch their breath. they're now finishing a stretch of 15 games in 15 days and 21 games in 22 days. gotta wonder if some april fatigue is hitting them yet.

i guess we'll be finding out.

It's Pedro time! All your base belong to us.
yay! we made it to pedro again!

navigating through the mets rotation is like being a kid again and playing tag. except this is scarier. pedro is base. base is good. it's safe. the rest of the rotation is havoc and chaos, running around, being chased, hiding, trying desperately to get back to base.

tommy boy got us off to a great start. jae seo continued it. we were chilling. we had a comfy hiding spot behind a large rock. base wasn't in sight, but the guy who was "IT" was busy chasing somebody else so there was nothing to sweat. then it was zamboozled's turn. "IT" spotted us! we had to make a dash for base, but it was too far away. "IT" was chasing us through the sandbox. our feet weren't moving. it was like quicksand. "IT" tagged us! argghhhhhhhhhhhh! we're IT!!!!!! damn damn damn. now we have to start running around, rotating our heads 360 degrees to spot somebody to tag. everyone's coming out of the woodwork to reach base easily. now they're calling "electricity!" and forming a human chain to reach other guys off base. they're killing us! they're ridiculing us!

now base is jammed. there's only one guy hiding out there somewhere. it's futile. "flowers for algernon" heilman takes the mound, and it's seemingly hopeless. heilman is always "IT." well, there was that one time last week, when some miracle happened, but who can expect a miracle to repeat so soon?

suddenly, there's a flash in the corner of our eye. somebody's darting out from behind a tree and making a dash for base! we react like a rabbit, instinctively reaching out to make the swipe tag. gotcha! you're IT!!!!

whewwwww!!!

somebody else is "IT!" we hide behind that same nearby tree. "IT" starts running off in the other direction, and we skip merrily to base.

"base!"

it's pedro time!

Sunday, April 24, 2005
Matinee weekend wrapup
I thought I had the trend figured out for the Mets this year. Pedro is awesome, then four lousy starts by the mutts of the rotation, then Pedro is awesome, followed by four surprising winnable quality efforts, then Pedro is awesome, followed by four crappy starts, then Pedro is awesome, so we're supposed to get the four surprisingly good starts by the rest of the rotation now.
Well, Tommy Boy held up his end, pitching a gem under the Friday Night Lights. Glavine rolled for 7 innings, only allowing 1 er and 2 hits, striking out 7. Mets beat the Nats, 3-1. Then with Ishiity biting it and hitting the DL, the Mets were facing a possible Dog Day Afternoon with Jae Seo called up from Norfolk to pinch-pitch. Well, I'm a Jae fan. He's a battler, whether he's got his stuff or not, and thank god, he had it on Saturday. Seo cruised for 6 innings and probably should've gone at least one more to rest the pen some. Willie yanked him though. Seo gave up only 1 er, struck out 4 and walked none. Strangest of all, he actually got a shitload of run support. That's something he's not used to. Seo left winning 10-1. The pen made it scary, and I'm sure Jae had a sick feeling he might actually not get the win. The Mets held on 10-5.
Then the Mets got Zamboozled on Bloody Sunday. Last time out, it was Zamboozled who got the ridiculous run support when the Mets slugged those 7 homers. He gave up 4 runs in the first 3 innings of that game in Philly, and he did the same thing today against the Nationals. Then he gave up 2 in the 4th and 2 more in the 6th. 8 runs in all, though only 7 were earned. The Mets bats didn't bail out Zammy this time. It's never Any Given Sunday with Victor Zamboozled on the mound. What a piece of crap he is. The Mets lost 11-4.
edit: some folks are asking what the hell this one means. was reyes really born on the 4th of july? no, actually he was born on june 11th. you see, in the movie, tom cruise is this kid who gets blown up in vietnam and confined to a wheelchair. he can't walk anymore. get it? like jose reyes doesn't walk? see? ah, nevermind.