Saturday, February 26, 2005
Sweatin' to the Oldies... Big Cat style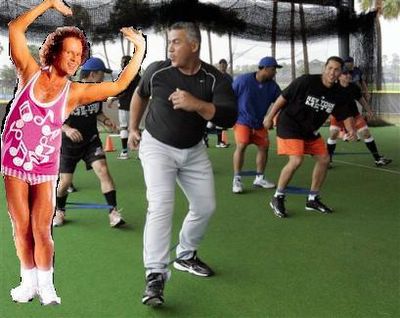 the mets have made the most of the rain in florida by moving under cover for strenuous off-the-field workouts. among the many changes within the organization this winter has been a hiring of a new fitness guru, richard simmons. this is the first time simmons has worked with a professional sports team and he was "tickled pink." simmons, whose previous work has only been with sobbing, obese middle-aged women, may have seemed like an odd choice for the mets, but count andres galarraga as a true believer.

"i've got all his stuff," admitted the big cat, "the videos, the slimaway everyday deluxe program, all of it." asked how the first workout with simmons went, galarraga said, "actually in the first five minutes, we were just in awe that it was really him. he was glistening just like the way he does on TV. then he moved right behind me, and i didn't have time to be in awe anymore. i was just afraid Big Dickie was sneaking up on my ass."

"yes, i told them to call me "Big Dickie," said simmons. "that's what all my friends call me, and i want them to feel comfortable with me."

so how exactly is an infomercial fitness guru going to change the admittedly weak fitness level of the team? "i'm going to do the same thing with the boys as i do with everyone i help," said simmons. "today, we worked with the rubbers and all the guys got a kick out of that. it's fun! then we'll hit the showers."

but are rubbers a cure-all for perma-damaged players like jose reyes, mike piazza and cliff floyd? "i pull out the rubbers as a warm-up. obviously, i plan to work one-on-one in intensive sessions with mike piazza. i've already brought out my blow-up dolls to camp, which are a big hit with the boys. mike and i will do some blow-up doll action. i understand he tore his groin very badly a couple years ago, so i'll have to examine that."

sounds like piazza and the mets are in good hands this year.





Wednesday, February 23, 2005
5 o' clock shadow
Tuesday, February 22, 2005
Whining biotches sent to sinbin
Sunday, February 20, 2005
Nothing like being healthy in February