Friday, May 13, 2005
Let's hear it for Maddux!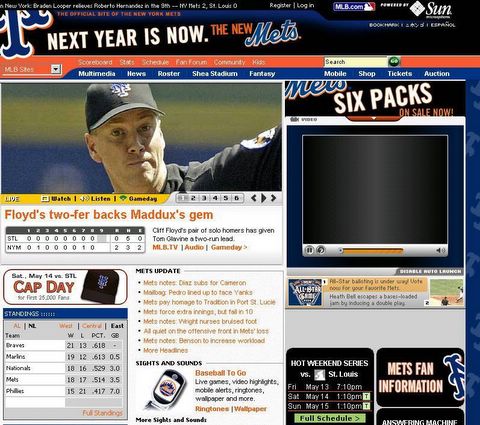 i guess the only thing more improbable than tommy glavine pitching a 7 inning gem against the cardinals on this lovely friday the 13th evening would be if maddux had pitched such a gem against them.

there's no love for tommy, even after this rare "once a month" quality outing. the official mets site would rather give credit to "maddux." i'm guessing it's mike maddux, not greg, since at least mike is a former met.



Thursday, May 12, 2005
The jingle is dead! Long live the jingle!
OK, i finally reached the puke point and ditched the beloved
Meet The Mets
jingle on the blog. i think the most important thing is that this song remains beloved to all of us, and personally i was getting sick of it. if anyone has the dulcet tones of jane jarvis in mp3 or wav format, let me know and i'll think about reviving the tunes player. for now, enjoy the sweet "sounds of silence."
and with that, apologies to simon & garfunkel. here's some lyrics i came up with earlier today:
and here's to you, felix heredia
omar loves you more than you will know (whoa whoa whoa)
god bless you, please, guru peterson
give him an hour, he'll fix the pen today (hey hey hey – hey hey hey)

we'd like to put some strobe lights on your arms, torso and legs
we'd like to help you learn to help yourself
let's change your arm angle twenty times a year
i'm a guru, son, there is nothing to fear

and here's to you, felix heredia
a busted thumb keeps you out of the show (whoa whoa whoa)
god bless you please, guru peterson
the bullpen is the place for those who pray (hey hey hey - hey hey hey)

ay caramba, manny's coming in the game again
take it to the bank, he's gonna get smacked
it's a little nightmare, another guru fix-it job
no more dejean mustard, let's call up the kids

koo koo pee you, felix heredia
jesus loves you more than mets fans do (boo hoo hoo)
god bless you please, manager willie
lock the bullpen up, don't let them play (hey hey hey - hey hey hey)

sitting in the bullpen on a sunday afternoon
tommy boy's down five-zip after three
cry about it, whine about it
when you've got to choose
every way you look at it you lose

where have you gone, jae weong seo?
mets fans turn their bleary eyes to you (woo woo woo)
what's that you say, guru peterson?
jae weong seo has left and gone away? (what the hey? F'n-A!)
Draft Profile: Craig Hansen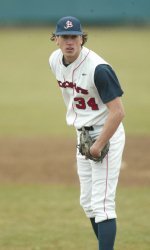 craig hansen is a new york kid attending st. john's university. he's a big kid with what scouts call a "live" arm, which is probably the highest compliment for a prospect pitcher. heck, a "live" arm will still buy you hype when you're a mediocre minor league journeyman like tyler yates or a 30 year project like zambrano/benson.
he's the #1 closer in the draft and will certainly go in the first round even though he's being "advised" by the evil scott boras. right now, he's a two pitch specialist (mid 90's fastball - high 80's slider), plus he's working on a change-up.
the mets are one of the many teams eyeing this guy. in recent years, fast-tracking relievers to the majors has been in vogue (ryan wagner, chad cordero, huston street), and hansen certainly fits the bill as the next one to do it.
obviously with poopy pooper as their current closer, the mets could use a fast-tracked upgrade. hansen could conceivably be in the majors in september if rush-tracked. with boras attached, though, it's certainly going to be costly. after the #9 overall pick, the mets don't select again until the 4th round. they're not in a position to wait and scoop up guys that fall because of boras-fright. they'll have to make their first pick a doozy. hansen is certainly a viable option.
article links:
newsday.com
timesledger.com
baseballamerica.com
Wednesday, May 11, 2005
Darth Shinjo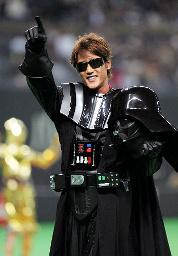 how about the mets trade kazuo for shinjo straight up? say what you want about shinjo's baseball skills (of lack thereof), but he was a cool guy to have around. cooler than pikachu. huh? cooler than ryoko hirosue. who? what? nevermind. cooler than keisuke hoashi? ok, that's going too far.
anyway, what the heck is he doing in this photo?
dig this google translation:
扮 to Shinjo and the dozen * ベイダー, it starts, sphere type professional baseball interchange game
6 when interchange game of the professional baseball starts, Shinjo of the Nippon Meat Packers, Inc. was removed from the forerunner member in the Osaka and Kobe game of the old home. Being because there is Hari in the abdominal muscles, taking important matter, must be.
Even then, those where fan service is not forgotten are Shinjo. " Therefore as for being able to appear in the tournament and or, it being possible this extent ". Before the playing movie the character of the " star * wars ", 扮 to the dozen * ベイダー, it started and did sphere ceremony, it made the fan enjoy which it visits.
Three swings of those which the request of the fan being transmitted, in 8 times appear with pinch-hitting, as for expectation reach to climax. Main part compared to one swift-footed it was and release " of episode 3 " was " the misfire "?
http://www.asahi.com/sports/update/0507/003.html?ts
Close your eyes tightly and make him go away
how terrible is victor zamboozled? how many years has it been since he was converted from a terrible infielder to a terrible pitcher? when the hell is guru peterson gonna find 10 minutes to fix him? what's with all the questions anyway? enough already! send him immediately to norfolk. bring jae seo up here now.

enough of the charity projects. the mets were zamboozled. admit it. that's the first step. just admit it. giving up kazmir was grand larceny. getting damaged goods in zamboozled was just salt in the wound. being forced to give the arbitration eligible millions in the off-season was cruel and unusual punishment. now having to endure him in 2005 is just insane. stop it. it's not funny anymore. now that we've admitted the wrongdoing and the problem, fix it. obviously zamboozled is more of a 10 month or multi-year project, and nothing a stopwatch can time. he's the closest to rick ankiel in the majors. hit batters, walks, wild pitches, balks. WTF are the mets doing trotting this guy out and passing him off as a major league pitcher for?

it's already insulting enough with glavine shamelessly stealing fred wilpon's money and anna benson's husband doing his bad impersonation of a pitcher. this zamboozling thing is just way way way over the line. it's unconscionable to subject fans to him. get him out of here. is he salvagable? who knows? who cares?



Cliff Floyd wins The Amazing Race!
congratulations go out to new york mets outfielder, cliff floyd, and his wife, diana ross, who were the million dollar winners in the amazing race. who said nice guys finish last? well they do sometimes, but not this time. thank god somebody beat that annoying boston rob.



Tuesday, May 10, 2005
Anna Benson's husband
anna benson's husband was the #4 starter in the pirates rotation behind oliver perez, josh fogg and kip wells. many moons ago, he was the #1 overall pick in the nation as a bluechip ace out of clemson university. that kind of hype will cut you a ton of slack in this business. it carried benson for a good number of years in pittsburgh, despite the fact that he was an underachieving sub-mediocrity with a high era and serious arm injuries. in the end, though, pirates fans tired of the bensons.

luckily, in new york city, anyone can blow into town and reinvent oneself. this is precisely what anna benson and her husband have done. anna has fashioned herself as some sort of pseudo-celebrity who'll flash her horseteeth and mother-of-three saggy funbags at any and all photographers. she's also been desperately trying to pitch a reality show idea to all 28 tv networks that air that stuff. for his part, anna benson's husband has miraculously reinvented himself as a 20 year old blue chip stud again. the mets made him priority #1 this winter and threw $22.5M at him without blinking. the mets dragged their asses and feet to give philip humber (a true young blue chip prospect) $5M so they couldn't fast track him last june at binghamton. however, there was no problem throwing tons more at a long ago failed prospect like benson to become another can't miss guru peterson miracle resurrection project. go figure.

my thought now is that benson, zambrano, and glavine would really bolster the norfolk tides rotation. they're already playing longtime major league vets: gerald williams, brian daubach, mike difelice and benji gil in the everyday lineup, so they'll fit in perfectly with the AAAA atmosphere.

am i being too harsh on anna benson's husband? maybe, but ask a pirates fan if i am.




Meet The Mets jingle
are you getting sick of the
Meet The Mets
jingle that plays on this blog? i have to admit, i am. i have a little one here who loves it, though. everytime it plays, he starts dancing with the biggest smile you've ever seen. this is all part of brainwashing we must do to create the next generation of diehard mets fans.
Monday, May 09, 2005
Early thoughts on the draft


back from 4 days in vegas. i'll have to catch up on the boxscores to see what i missed with the mets. all i know is cammy returned with a hot bat, mikey's had a couple sweet games to pretty up the stats a bit more, and tommy "the stopper" glavine brought all the momentum to a screeching halt again.

the amateur baseball draft is a month away. the mets'll be selecting #9 in the first round. they lost their 2nd & 3rd round picks to free agent compensation, so i'm looking for them to make an "impact" fast-track college selection that'll fill a team need in the next year or two.

i'm thinking stephen drew will be definitely be back in the draft. seems arizona will not budge from their final $7.5M offer which has been out there for awhile, and boras wants MORE MORE MORE. the dbacks also have the #1 overall pick and unless they pull a matt bush like the pads did last year, they'll have to sign consensus #1 justin upton to a monster deal and they just don't have this kind of money to spend. the thing is, upton is a shortstop like drew and a few years behind. why pay the same kind of money to a less sure thing like upton? it's a crazy, back to the wall dilemma for arizona and shows again that teams can be "punished" with top picks if they don't have the ability to trade them.

arte moreno has been spending since he bought the orange county angels of anaheim in the near proximity of los angeles, so it's been strange that he would agree to pick jered weaver and not meet his price. again, boras wants MORE MORE MORE, but because it's arte moreno, i'm leaning 50.1/49.9 that weaver is signed by the may 31st deadline.

boras is "advising" a lot more top rated draftees this year than last year. it's amazing that these kids still flock to him like flies on poop. the lure of money talks, even to the detriment to their careers. starting pitchers mike pelfrey, luke hochevar, mark mccormick, jason neighborgall, shortstop tyler greene, and this st john's kid, craig hansen are all with boras. add drew and weaver to the mix and this year's first rounds can be seriously screwed up as teams start going off the board early and often.

there's definitely a "search for southpaws" happening. the one lefty on the early draft board is ricky romero from cal st fullerton. he's flying up with a bullet because he's the ONLY power lefty teams have been keying on awhile. i'm sure the mets have been looking at him too. high school lefty mark pawelek (ba.com) throws mid-90s and is slotted as a mid-first rounder. i'm thinking if the boras effect hits, both could easily go in the top 10. cesar ramos - ex-long beach teammate of jered weaver, has never been projected as a first round pick, but he could easily be there. ryan mullins from vanderbilt hasn't had a great junior year and he's even picked up a DUI arrest and team suspension, but he too may find interest in the early rounds.

one guy i still like as much as last year is wade townsend, assuming he's been staying in playing shape the past year. he's a very possible elite closer kind of guy with the stuff and bulldog attitude. still, i'd keep him as a starter initially and make him prove that's not his strongest suit first. reuniting townsend and humber for the full summer at binghamton would be great.

drew would be a good signing too. it's a very unpopular belief, but i'm on the record as saying i'd love to see a drew-keppinger middle infield-top of the lineup in 2006. those are two college trained fundamentally sound hitters. if jose reyes can stay healthy the entire season and start filling out the stat sheets better, he can recoup his young stud trade value again and be the centerpiece in a deal to fill a key major league need elsewhere. alternatively, drew can probably be easily converted to a 2B without a delay in his fast-tracking, and a drew-reyes middle infield wouldn't be too shabby either.

catcher jeff clement out of usc will probably not drop to the mets. not much available as far as college power hitting outfielders or power hitters period, especially at the #9 slot where the mets will probably miss out on a clement or alex gordon from nebraska. seems every top college hitter that'll be there at #9 is a corner infielder which already is a logjam situation for the mets system. an exception is jeremy sladen from g tech who's a stud hitting RFer. he might be a top 10 pick, but he's got injury worries. he's coming off shoulder surgery and his arm rates very low. additionally, the mets should not, cannot and will not look lower on the board and take a flier on somebody like john mayberry, jr or stephen head and try to convert them to an OFer.

that's it for now. more draft crap to come in the future.