Saturday, April 09, 2005
0-5
the losing isn't so bad by itself. afterall, this is the 5th game of the season. everyone would agree the "it's still early" cliche is applicable. the thing i don't like is the mets, as a team, look like they're beaten. the team is dead inside like it's the 155th game of the season and they just want to go home already. that's intolerable.

last year, the mets got so bad that it forced "affable" art howe to tear up the clubhouse. that's a hard thing to believe, even now, long after it actually happened. did it light a fire under the mets? no. a harder thing to believe is that willie randolph can tear up the clubhouse this year. not that it would do anything.

hell, it's early, but it's still getting mighty pathetic already. i don't know what willie can or can't do that bobby valentine and art howe could and couldn't do before they lost control. as always, it's ultimately up to the players to get it done.

tonight was the perfect setup for an "automatic loss." aaron "automatic loss" heilman was taking the mound. it was such a perfect loss setup that you had to figure maybe a fluky thing would happen, and heilman would pull a "phenom first round draft pick" miracle to help the mets get off this snide. i guess that's fairy tale thinking. the harsh mets reality is that met-killer, brian jordan, killed them again. this cripple, who should be 3 years retired, turned back the clock and hit a 2nd inning grand slam. the mets didn't even have a chance to celebrate that they finally escaped the first inning 0-0 before the earth caved in on them again.

could the "new" mets offense claw their way back into the game? are you kidding. again, the chances for rallies were frittered away.

the bullpen saw plenty of action again. heilman only went 5. his pitch count was low, since atlanta was very good at letting him conserve his pitches while tattooing him. i thought willie should've let heilman take one for the team and pitch his rotten arm off. are we saving it for anything? anyway, tonight we were treated to heredia, dejean and the poopman out of the clown circus bullpen. all pitched scary innings. heredia got bailed out by a throwout at homeplate (cliffy's 2nd multiple bounce assist at home plate in the game). dejean didn't have his good stuff (surprise, surprise), but survived loading the bases. poopy pooper was seeing his first work since the opening day mega-fiasco and only had a mini-fiasco this time. he sucked.

my personal highlight of the night was seeing willie successfully pull off a doubleswitch in the middle of the 8th inning. willie gets the gameball. do losers get a gameball? anyway, smoke that goddamn cigar you've been saving for your first victory. that must smell rancid already.

Friday, April 08, 2005
Hello Willie, I own you.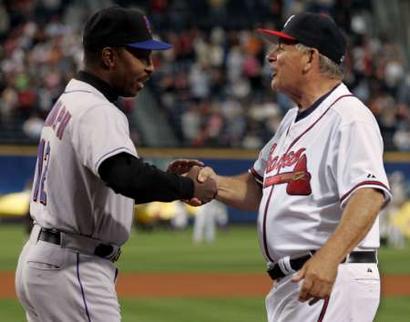 bobby cox started winning division titles with atlanta back in 1991. how long ago was that? i was 24 years old. i had a macintosh LC. it cost over $2500 with a printer. there was no internet... at least that i was aware of. there were only two NL divisions back then. atlanta was in the west, if you can believe it. they should've stayed there. for the mets, the davey johnson era was over. heck, the buddy harrelson era was over, too, as mike cubbage finished off the season. the '91 mets would wind up in familiar disappointing territory, under .500, and only above montreal in the standings.

actually things would get worse. much worse. bobby cox has seen it from his high perch with the braves. the mets managers have come and gone. torborg, green, bobby v, art howe and now willie. that's 7 different mets managers in all. also 6 different gm's. well, make that 7 since frank cashen had to return to fill in a little while for steve phillips during his rehab for being a sexual perv.

a lot has happened during this braves division dynasty. the mets fully demolished their own never-to-be dynasty, bought the worst team money could buy (part I), scrapped that and built the best youth movement to ever implode, scrapped that and just went cheap. lo and behold that throwaway franchise suddenly started winning on its own. the mets secured piazza and entered a wildcard level of greatness that was always a step behind atlanta. luckily, we even missed them one year and made it to the world series. then it got nutty again as the worst team money could buy (part II) and the worst extreme makeover money could buy disasters rocked the team in quick succession. managerial and gm changes came. another cheapening era hit, followed quickly by another managerial and gm change and the money flowed again.

like i said, a lot has happened with the mets. atlanta has gone through a ton of on the field changes. their roster has evolved a lot, especially in recent years. they just win, though. at least in the regular season, and that's an incredible feat no matter how you slice it. their consistency is with the gm, manager and pitching coach. it's beyond ridiculous how they keep winning. it's been like that for at least 4 or 5 years as their roster has turned more and more into crap on paper, but they still make mincemeat out of the division when it's all said and done.

the mets have been in the same division as atlanta, but hardly in the same league. the mets could never get it done head to head with them. cox owns the mets.


so how was game 4 of the 2005 regular season? don't ask. victor zamboozled did the expected right off the bat, and the mets were in their customary 2-0 hole before the national anthem ended. and that was the ballgame. mets only run came via a homerun, of course. solo jack, of course. it was mike piazza's first of the year. let's hear it for flaxseed oil. yay! the mets got some hits and stranded everybody, of course. manny ay caramba and coup d'etat saw action again, of course. they teamed up to give atlanta an unneeded insurance run. it was just another of those mets-braves games where the mets basically needn't have bothered to suit up.

hopefully willie has thrown out that stale cigar he was saving for his first managerial victory. aaron heilman starts for the mets tomorrow. it's set up perfectly for another loss. too perfect, in fact.

Two Kazes make a wrong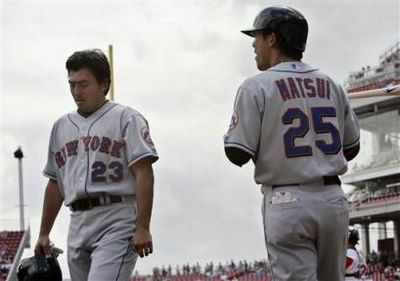 kazuhisa didn't do himself any favors doing his "ankiel" act by walking a couple batters in the first inning yesterday, and kazuo didn't help matters by ole-ing a ball. bottomline is the mets buried themselves in another 1st inning hole and never saw daylight again.
willie joins casey stengel in the el stinko starto department with this 0-3 start. the mets haven't done that since 1964. ya gotta believe the team won't end up with a 1964-ish record. who knows, though. people have complained that willie doesn't even have any minor league managing experience. perhaps they won't be saying that after his tenure with the mets is done. if he hasn't gotten any other thing from the series against cincinnati, let's hope he at least figured out how to pull off the double switch now.
so it's off to atlanta. mets fans always delusionally regard the braves as hated "division rivals." they may be hated, but the mets haven't rivalled the braves for anything in a long time. only mikey piazza remains from any hint of competitiveness here, and he's too dog-tired already to remember anything. get that man some flaxseed elixir
NOW
! where's anderson bourell when you need him?
well, i'm sure in a week or so, while the mets are cruising juggernaut-style, we'll all be laughing about this slow start and the chicken little worries of so many fans. right?
Thursday, April 07, 2005
This "NEW" Mets Ishiit is getting old
a glaringly old thing i'm still seeing with these new mets is their killer habit of stumbling out of the blocks. they dig a hole for themselves in most games early on. pedro gave up a 3 spot on opening day. tommy boy gave up a deuce in the first frame yesterday. ishiit gave up another deuce in game 3, and the mets trail 3-0 early on as i write this.
now, unlike last year, this year's healthy (so far) lineup should be able to work their way back into the game
IF
the starter can settle down and shutdown the opponent afterwards, like pedro did. then it's all about the offense outhitting what our bullpen is sure to give up. it's a horrific roadmap to be following game after game though. the mets have done this for years and the losses pile up rapidly and seasons are kissed goodbye early.
weaknesses feed off of each other on a team. these new mets have a crippling bullpen -- that's old ishiit. the starting rotation (with or without trax and anna benson's husband) is shaky and inconsistent -- that's old ishiit. the offense seems to be heavily reliant on the long ball and cannot manufacture runs in any fundamental sense -- that's old ishiit. we're already getting a taste of the 100 different lineups willie will be employing this season -- that's old ishiit.
i could go on, but i want to stay optimistic this early in the season. :)
Wednesday, April 06, 2005
Second verse, same as the first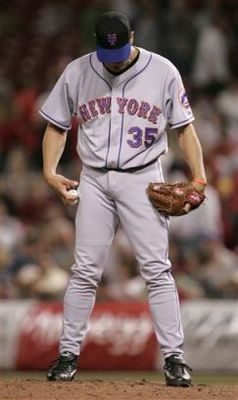 it would've been nice to see some bounceback in the mets after the crushing loss on opening day. alas, like all mets teams of recent years, there wasn't any heart, no guts, no soul to be found. game two ended just as the first, as a disappointing loss.

tommy boy glavine, the 3 month ace for the mets (in two full seasons of service), came out of the gates crappy again. just as he seemingly did every game last summer, he wound up giving up 5 earned runs and the mets had to reach into their godawful bullpen way too early. blame the umps for some balls and strikes calls, if you must, but the glavine was also the recipient of a 25 inch wide plate for most of his career. his first season here was a massacre, and some folks can blame that on questec. his second season was only a half season of good production, and maybe that can be partly blamed on a taxi accident. there's always blame to go around, but as a fan, i just care about results, and tommy boy's haven't passed muster.

manny ay caramba and coup d'etat saw middle relief action for the 2nd straight day and though both were shaky, they escaped unscathed. old relic roberto hernandez actually struck out3 of the 4 batters he faced in a stellar outing. that left mike dejean. mets fans have high hopes for this piece of crap because after he bombed out in baltimore last year he actually gave the mets a month or so of half-decent pitching before getting injured and missing the rest of the year. well, truth be told, he kinda stinks, as he mostly has for his whole career. he got touched up for a grand slam that sealed the deal.

the mets offense did get 12 hits, but as usual, the big inning alluded them. always a clutch hit shy, always too many runners LOB. it's a curse, i tell ya. dougie and david wright got their first homers of the year. both solo jacks. other offensive highlights were kaz matsui with a double, two ribbies, a SB and walk. vic diaz got the start in RF this time and took advantage of it, going 3-4 with a run scored.

the umps ruled that manager willie muffed a double switch in the 8th inning, keeping mike dejean in the lineup for the 9th inning. never saw clueless art howe do that.

crappy 0-2 start for the metsies. the rest of the division is at 1-1. at least it's too early for the mets to have buried themselves.

Cammy's Blog
once upon a time, mike cameron had a blog. just like you. just like me. as you can
see
, it's not there anymore. for whatever reason, cammy stopped updating it last january soon after signing with the mets. i guess he's been busy. most probably, he just cut ties with the website that hosted his journal. though, maybe we can blame it on his perma-damaged wrist. not only has it affected his production on the field, but it's robbed us of his sharing his most inner thoughts. damn. the little he did write pretty much shows he's really a nice, down to earth guy. he'd really be a fan favorite here if he could just stay healthy and on the field... and he didn't whine and flip-flop so damn much. being injured, non-productive and on a losing team would make a guy ornery though..
get healthy and play a productive RF, cammy. we need you. start blogging again, too. you can vent online, then edit and delete it. when you blurt out shit to nyc reporters, they'll print that and hound you with it for life.
i dredged up parts of his last two entries:
January 29, 2004
I just spent a week in New York trying to get my living situation set up. I thought housing prices in Seattle were high. New York is the very different. It's the craziest thing I've seen.
There is another thing crazy about New York ­ Mets fans. Not bad crazy, good crazy. Mets fans are passionate! I love it. I'm passionate, too, about baseball. The only thing I can promise about 2004 is I'll give everything I have to turn help the team turn over a new leaf and start winning. I've seen it happen before in Cincinnati.
Why The Mets
One of the reasons I picked the Mets was I wanted to be back in the National League. I wanted to play in Atlanta so my family can come and watch. While in Seattle, I used to rent a bus and load my extended family for a road trip to one of our East Coast games. Now that I'll be coming through Atlanta, they are own their own. But they have already started asking me about tickets.
What I'll Miss
One thing I'll miss most about playing for Seattle is spring training in Arizona. I loved it there. You never had to worry about the off time ­ there was always something to do.
My biggest Worry
The one thing that worried me the most about playing for the Mets was could I handle playing in New York. Could I handle the stress. I stared thinking about all the things I've been through and I came the conclusion that I'm ready for it. I feel I'm ready to handle it.
More Hitting
I've changed my offseason routine some. I've been hitting and throwing more rather than lifting weights. I'm working out on a day-to-day basis with three or four guys in batting cages.
Dec. 11, 2003





A Mariner No More
It's official. I'm no longer a Seattle Mariner. The M's let the Sunday deadline slip by without offering me arbitration, making me a free agent. I saw it coming, but it's still kind of a shock. It's like dad telling you it is time to go ­ you have to get out of the house and move on with your life.
I want to thank everyone for a great ride in Seattle. It was a warm welcome from day one, from my teammates, management, the fans, and the region. With he exception of a few nay sayers, almost everyone has been warm for me and my family, and I always will have a sweet spot in my heart for Seattle.
Despite some newspaper reports, I did want to come back, under the right terms. One of the hardest parts was telling my kids we weren't going back. "Daddy, we want to go back to Seattle," they said. They really liked the Northwest.
I appreciate everyone's emails we've received and all the support at the games. Whether I was hot or not, I felt positive energy at Safeco. The ovation at the last game was very special, too. I know fans appreciated that every time I stepped on the field I put my body on the line and gave everything I had.
I wish the M's and their fans the best.

Tuesday, April 05, 2005
Anna Benson is fuming
word on the street is anna benson, the ample wife of mets disabled underachiever, kris benson, was seen throwing a hissy fit after being informed UPN will be airing a
britney spears reality show
.
witnesses say anna benson was in a mid-town carvel's store screaming "what does that skank have that i don't have?!" while downing a fudgie the whale cake.
benson claims to have been in active negotiations with UPN after pitching her own reality show to them six months ago. however, dawn ostroff, the president of UPN denies there was any negotiations with benson. "i don't know who anna benson is. some crazy lady has been offering herself to the security guard and elevator man, trying to get upstairs into our office. we've called the police several times. is that anna benson?"
apparently, mrs benson is no stranger to the police. our anonymous spring training source tell us there was an altercation at a panda's express in st lucie a couple weeks ago. "the bensons were there. only anna was eating. she had a gigantic platter of orange chicken and kung pao shrimp while her husband and the kids were sitting separately sharing a cup of ice water," says the source. "suddenly, kris benson reached over to his wife's plate and tried to get a piece of orange chicken. anna benson went berserk and stabbed him in the pectoral muscle with a plastic fork."
anna benson in happier times, modelling her fashion line of breathable burlap bags at shea stadium.
Monday, April 04, 2005
Bullpen Clowns
to nobody's surprise, the mets bullpen sucks mule balls.

pedro did his part on opening day. after a shaky 3 run first inning, he settled down and turned into the terminator. overall, he struck out 12 in 6 innings. the mets offense sputtered here and there in clutch opportunities with RISP, but got some long ball from kaz matsui (the opening day home run king), carlos beltran, and cliff floyd.

the bullpen came in for a routine workout. the mission was to protect a 3 run lead with 3 innings to go. they couldn't do it. manny ay caramba got a tough break when beltran ran full speed towards the centerfield warning track to drop a double, but with 2 outs, instead of slamming the door, he allowed another double to narrow the lead to 6-4.

coup d'etat, the import from korea via the japanese league, came in and worked the afternoon shadows to perfection with his hidden sideways lefty deliver. piazza couldn't catch the ball, but the reds couldn't hit it either, as he pitched a scoreless 8th.

then we come to the 9th. braden pooper came in to protect a 2 run lead and pick up the easy save. basehit to kearns, homerun by dunn (2nd of the game), homerun by randa (walkoff winner), and that's the ballgame.

disgusting. predictable, yet disgusting. somewhere out there, matt ginter is having a good laugh. where's ugie? bring up bell. bring up seo.

Sunday, April 03, 2005
MLB Steroids Policy -- 1st Victim is ?????
tough guy bud selig got his first man --> alex sanchez. who? WTF?
the scrawny, punch and judy hitting sanchez
tested positive
for juice. of course, he's denying it and he'll fight it. that 10 game suspension and loss of salary slap on the wrist is a real killer. he should fight it. in the real world, it's a felony. in baseball, it's a damn outrage to the player nailed and you can bet the player's association will be backing up sanchez to the fullest extent of their powers.
"I know I did nothing incorrect. ... I take stuff I buy over the counter. Multivitamins, protein shakes, muscle relaxants. That kind of stuff," Sanchez said.
"I'm surprised because look at what kind of player I am. I'm a leadoff hitter. I never hit any home runs."
Sanchez did not identify any of the products he purchased over the counter, but described them as "something to give me energy, put a little muscle on my body. That's it."
Goodbye Ginter
matt ginter couldn't have had a better spring training. unfortunately, that failed to earn him a rotation spot when steve trachsel went down. the mets chose instead to go out and trade for kaz ishii. still, a bullpen slot as the long man looked promising. alas, it wasn't to be. ginter was out of options, and minayacal omar wasn't going to just give him away for nothing on waivers, so he did something worse. he traded him to detroit for a piece of utter shit in steve colyer.

colyer is, yet again, another of the innumerable "great stuff, just can't pitch to save his life" kind of guys that a dozen teams eventually take fliers on before the guy's finally out of baseball. there isn't even any need to make a guru peterson joke about fixing him, because colyer and peterson will probably never meet... unless the guru is demoted to norfolk.