Saturday, April 02, 2005
Extreme Blog Makeover
to celebrate the "new" mets as they are set to embark on a "new"season, i have given the blog a "new" look.

Friday, April 01, 2005
Not a good sign: the spring injuries continue
my biggest worry about the "new" mets is that they have a lot of key guys with "old, broken" bodyparts. the mets have had a difficult time staying healthy for many years now. their "A" lineups lasted about a month before we started seeing the "B" and "C" lineups. by the summer, it was "D" lineups as the team did their annual freefall in the standings. it didn't help that they also had an incompetent medical staff under contract for awhile.
so far this spring, steve trachsel has been lost for at least half a year, mike cameron has only just returned after rehabbing from wrist surgery, kaz matsui has had brand new back problems plague him, and pedro has had some back worries. that's a handful of key starters, and we're not even mentioning the perma-injured players like reyes, floyd and piazza who are always ticking timebombs waiting to implode at the most inopportune time.
the latest worry is anna benson's husband. apparently he strained his
right tit
somehow and his first start is being pushed back. also, cameron (who's never been healthy as a met) is already feeling new pain in his surgically repaired wrist. superduper.
Thursday, March 31, 2005
The Mets take a walk on the wild side
baseballprospectus.com:

Cardiac
: Legend has it that when George Stallings, who managed the Miracle Braves of 1914, baseball's original worst-to-first story, was on his deathbed, the doctor asked him why his heart was so bad. "Oh, those bases on balls!" Stallings allegedly shot back, and died.
It's probably apocryphal, but the point holds: walks can drive a manager's blood pressure through the roof. That being the case, Willie Randolph may wonder what he's gotten into in the pressure cooker that is New York. Whether due to Rick Peterson's "I Can Fix It" approach or simply a coincidence, the Mets have brought in two starting pitchers over the past year who are most famous for their excessive walk totals: first Victor Zambrano, and now Kazuhisa Ishii. (Well, not really...now, Zambrano is most famous as the answer to the question, "For whom did the Mets trade Scott Kazmir?")
In 2004, Ishii and Zambrano combined for 22 games in which they walked more batters than they struck out. Ishii's 13 were more than any pitcher except Kirk Rueter and Shawn Estes (14) and Daniel Cabrera (15). Since 2002, Rueter and Estes lead this statistic with 36 and 31 respectively. Ishii ranks seventh, with 27. Of course, the recently departed Al Leiter comes in at 25 (12 in 2004), and Steve Trachsel, whose injury opened the door for Ishii, performed the feat 24 times in those three years, with eight coming in '04.
Players like Rueter and Leiter are on this list not because they're lousy but because they are control artists who don't strike guys out. Not so with Zambrano, who throws very hard but has no idea where the ball is going, or with Ishii, who doesn't throw all that hard but still has no idea.
If you're wondering, by the way, who lies between Estes and Ishii on the leaderboard, take a look…

Kirk Rueter       36
Shawn Estes       31
Aaron Sele        30
Jon Garland       29
Josh Fogg         28
Mike Hampton      28
KAZUHISA ISHII    27
Kenny Rogers      26
Damian Moss       25
Miguel Batista    25
AL LEITER         25
Russ Ortiz        25
TOM GLAVINE       24
STEVE TRACHSEL    24
Jason Jennings    24

It should come as no surprise that the 2004 Mets were 26th out of 30 teams in both strikeouts per nine innings and strikeout-to-walk ratio. (Conversely, they walked the fifth most batters in the league.) They were also fifth worst in pitches per plate appearance, meaning that when batting against the Mets one would have longer at-bats than against all but four other teams. That by itself isn't bad: there are some good staffs (the Mets, Astros and Cubs) near the top of that list, and some poor ones (Colorado, Kansas City, Cincinnati, Detroit) near the bottom. But the Astros and Cubs, who throw a lot of pitches, were also 1-2 in strikeouts per nine. They provided plenty of George Stallings moments for Art Howe in 2004.
That shouldn't change in 2005. If anything, the changes they have made, not only to the pitching staff but to their defense, portend even more of the same.
Wednesday, March 30, 2005
Rotten spring for Kazu "O for 4" again
last spring training, kaz matsui looked like shit. then suddenly on opening day, he led off the game with a shot over the centerfield fence and magically transformed into what mets fans were privately expecting him to be: the combination of the best of ichiro and hideki matsui.
that fantasy vanished quickly. it turns out that kaz's power failed to translate in america. there was a brouhaha over whether he needed glasses and whether he would ever wear them during an actual game. on the basepaths, he seemed very speedy but just didn't attempt stolen bases. defensively, this gold glove shortstop in japan was ridiculously flawed. finally, to top it all off, this japanese ironman fell to a back injury and basically missed the 2nd half of the season.
that was 2004.
this is 2005. this is the "new" mets. this will be a "new" kazuo matsui, right?
well, kaz is having a shitty spring training again. he looks like he's made the switch to 2B without a hitch, but he can't hit his weight (maybe he can in kilograms, but not in pounds). he's also having brand new back problems. the
new york times
wants to dump him into the 8th spot in the lineup. should he be buried down there?
maybe. gotta admit EVERY other everyday starter has been a ton more impressive with the bat this spring, fwiw. then again, i don't really think it's that important who's batting where on opening day. call me crazy, but i'm sure manager willie will wind up having tons of different lineups this year. maybe kaz bats 8th in some of them, maybe not. hopefully it all sorts itself out for the best with everyone healthy and productive. more likely, though, and what i'm fully anticipating is that certain players will fall to injuries (probably kaz himself) and the bench will be shuffled in and out and all around as the lineup changes infinitely. that's the same movie we've seen for a long time now.
nothing "new" about that, except this is 2005. so, we'll see.
Zamboozled still Zambroken
victor zamboozled, the once and future 10 minute fix-it project, was supposed to be getting some work in during an organized, modified rules outting against minor leaguer scrubs. it turned into a train wreck as zamboozled got ripped for 11 hits and 5 runs. guru peterson was very encouraged after the outting because the usually wild zamby didn't give up a single walk. the great guru said, "nobody got on base without swinging a bat, which is huge."

shut up, peterson. that's what happens when you're pitching meatballs over the plate that are getting smacked by the scrubbies.

in other news, the mets signed crappy infielder, benji gil. gil was a hot stud prospect a decade ago that minayacal omar was responsible for back in his texas rangers days. he seriously sucks.

the mets also signed sucky wilson valdez as more minor league fodder.

and in yet another sucky signing, the mets also signed fernando lunar. lunar's job will be to rotate around alay soler.

phil humber will be getting the opening day nod for the st lucie mets. he should be at AA as soon as possible, but with st lucie being nice and warm and binghamton being cold as hell, i have no problem waiting until mid-may to early june for the promotion.

apparently, scotts strickland and stewart are not going to make the mets opening day roster. both are free to leave the mets if that's the case, but for now, both are sticking around in st lucie trying to figure out what to do. the former expos teammates are concocting a scheme to hitch hike up to montreal in a couple months and see if they can attract any attention by barnstorming the baseball-abandoned city with former expos mascot, youpi. they'll be taking on all comers in some serious 3-on-3 slow-pitch softball action in the parking lot of olympic stadium.


Tuesday, March 29, 2005
Goodbye, Big Cat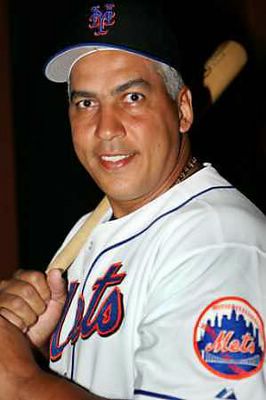 andres galarraga's time in a met uniform amounted to less than a full spring training. the big cat
announced
his retirement this afternoon. he'll end his career one homer shy of the 400 mark. that's a nice number, but better yet, he leaves as one of the game's "good guys," who left a positive impact on many players, including everyone in the current mets camp.
galarraga hasn't made any immediate future plans. he'll go home, spend time with the family and think about it. mets gm minayacal omar is openly hoping that the big cat chooses to rejoin the mets in some capacity. possibly as omar's body double.
in other news, the mets have signed kelly stinnett. why stinnett? "we couldn't locate mackey sasser or barry lyons," explained minayacal omar.