Friday, February 04, 2005
MILF hits paydirt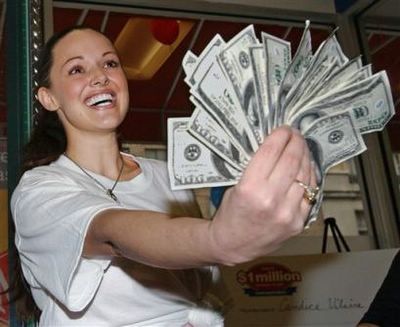 anna benson was recently offered an undisclosed sum by an undisclosed person or persons to keep her mouth shut, to not hang around the new york mets clubhouse, to not go around peddling her lame pitch for a reality show, and to stop dressing up scantily and showing off her sagging fun bags that've fed 3 kids. she quickly donned an XXXXL plain white t-shirt and accepted the money.

Tyler Yikes! out for season
apparently, this is big news. tyler yikes! has undergone
rotator cuff surgery
. how this supposedly depletes the mets bullpen, i have no idea. since when was tyler friggin yikes! ever penciled into the mets bullpen? this is the same piece of shit who underservedly made the opening day rotation last season, and then yo-yo'd unsuccessfully from norfolk bullpen to shea bullpen.
never have i seen such unmerited hype over a damaged 23rd round pick, career minor league mediocrity such as yikes! he's been a lousy minor reliever. he's been a lousy minor league starter. he's been a lousy major league reliever, and the only team he looked good against last year in his brief, disasterous stint as a starter was the AA lineup of the expos.
why the hype? 1) he hits 95 mph on the juggs gun on the sidelines, and 2) guru peterson is a hocus-pocus miracle worker who can turn lead to gold. the juggs gun is an archaic joke. a guy's juggs reading is as helpful as a guy's 40 meter dash time in determining how good a baseball player someone is. the guru peterson myth persists with fans. there's this fantasy that he can take anybody and turn him into a quality major league pitcher. no doubt, this myth was started by the 10 minute fix-it man himself.
so yikes! is gone for the year? big deal. good, now we don't have to see this aging "top prospect" get smacked around anymore, and the hype can be buried until he returns to the mound in 12 months or whatever.
Thursday, February 03, 2005
Whole lotta nuthin' goin' on
the mientkiewicz WS ball is finally on display so all boston fans can stare at it. the shamster was finally traded... to the orioles. two-time former met, jeromy burnitz, was signed by the cubbies to replace sosa. cliffy floyd and mike cammy remain on the team and penciled in to start on either side of carlos beltran in the outfield. faint trade rumors persist about outside interest for cammy. nothing about floyd. the mets continue to sign a bunch of people who will never play for the team. mike piazza got married down in florida. it was the final reunion of the old mets kitchen cabinet. no current members of the mets merited an invite. the mets are playing coy about their interest or non-interest in magglio ordonez. maggs is playing coy about how healthy he is. his forever pushed back public workout has now been pushed back some more and shifted from florida to california. just keep moving it and he'll eventually be back in austria. pitchers and catchers report to lovely port st lucie in less than 2 weeks. hooray! let's hope spring training goes off without a hitch, unlike in 2004 when jose reyes broke down early (remember the "jose will be ready for opening day" joke?), latrine garcia and spencer for hire got into a pee pee pizza scuffle, and the newly hired manager for the brooklyn cyclones, leon lee, decided it would be a good idea to show off his twig and berries to all the women in his st lucie hotel.