Saturday, January 08, 2005
SHOW CARLOS THE MONEY! SHOW CARLOS THE MONEY! SHOW CARLOS THE MONEY! SHOW CARLOS THE MONEY!
well the mets leapt one monster hurdle and have one left if they're to bag beltran. carlos and his superagent, scott boros,
failed to negotiate a contract with the houston astros
by the saturday 12 am EST deadline. that's all she wrote for the 'stros.
boros has hung up on houston, but his phonelines remain hot and heavy with manayacal omar, jeffy, freddie, briquette, the 4 superscouts and everyone else who's in on tonight's party line.
i'm on the carlos beltran bandwagon. always have been. he's a special, proven, multi-faceted superstar talent who's improving and still not in his prime. the mets failed to pass the piazza centerpiece stud mantle to AROD after the subway series. they failed last winter with vlad. all the while, mets fans have had to suffer watching a rotten team die around a decaying piazza. beltran is the right player at this time to build around going forward.
SHOW CARLOS THE MONEY! SHOW CARLOS THE MONEY! SHOW CARLOS THE MONEY! SHOW CARLOS THE MONEY!
happy 70th birthday, elvis!!
i was in the backseat of my parents' oldsmobile cutless supreme when i heard the news of elvis leaving us. the station i heard if from was the old 1050-WHN. back then it was this monster country music station. later, of course, it changed to WFAN, new york's first 24 hour sportstalk station and home of the new york mets.
i'm just killing time here, waiting for the beltran verdict to come in or deadline to pass, whichever happens first. there are online murmurings that beltran is leaning towards returning to the astros. that's no surprise. even money aside, or close to it, and the astros are astronomical favorites to retain him. they're the better team, and they're the team and city he's had a chance to get used to already. only shot for the mets is for houston's offer to be inexcusably low. that doesn't clinch anything for the mets, but it gets houston out of the picture and freddie can do another pay-dro (up the ante and blow every pretender away), assuming steingrabber doesn't get his tentacles involved.
Mets sign Coup d'etat
the new york mets still haven't reached agreement on a trade for sucky korean
bietch kim
, so they turned their eyes towards another sucky korean hurler,
coup d'etat
. he was originally a righty, but found out in high school that he sucked a little less as a lefty. he was also a college teammate of korean sucky pitcher, chan ho park. coup d'etat has pitched the last 4 seasons in the japanese league with a losing record and mediocre era. he's coming billed as the korean takashi kashiwada or perhaps the korean righty version of saturo kamiyama.
sucky korean pitcher and current met malcontent, jae seo, could not be reached for comment, but i'm sure he's not impressed.
Friday, January 07, 2005
Mets ink Cairo, Yanks counter by buying Alexandria
the mets shored up their infield depth by
signing veteran miguel cairo
(no relation to egypt) to a one year deal. this is a pretty solid pickup, considering jose reyes has the body of a 100 year old woman and kaz matsui is coming off some pretty messed up lumbar region shit. then again, everybody thought rey sanchez and mike bordick were pretty solid pickups, too.
Waiting on Carlos
all's quiet on the carlos (beltran) front, but you get the feeling this is the quiet before the storm. it should be at least with houston's deadline fast approaching to sign him or lose negotiating rights until may. everybody's got their 9 digit blind bids in, and so we wait.


Thursday, January 06, 2005
Cya Vance
minayacal omar
traded
backup catcher, vance "the mouth" wilson, to detroit today for a minor league dominican flyweight shortstop named anderson hernandez. hernandez is apparently an overgrown jockey impersonating a baseball player. actually, he's touted as a defensive whiz.
baseball america
rated him the best defensive infielder and best infield arm in their system. can't tell much from his stats except that he's got some speed, nominal power, and no plate discipline. basically, your stereotypical stringbean tool-set latino shortstop who needs to "fill out" and "projects" to be jose reyes-lite.
poor vance. the guy's mouthed off about a lack of playing time for so long, and now he gets shipped out to play behind pudge rodriguez.
Wednesday, January 05, 2005
Premature ejaculation again
Met sources: 'We got Beltran'
By Mike McGann
January 5, 2005 - Two separate sources within the New York Mets organization tell NYFS that a deal to sign All-Star centerfielder Carlos Beltran may have been reached. The reported deal, for seven years at $112 million would be subject to approval by Major League Baseball and would not be formally announced before tomorrow at the earliest.
NFYS staff made two separate attempts to contact the Mets to get confirmation. On the first, a NYFS reporter was told the team would have no comment, as they were "too busy moving offices." Another NYFS reporter reached Mets' chief spokesman Jay Horowitz who declined to address the report. Other sources within the organization contacted by NYFS could not confirm or deny the deal.
The 27-year-old Beltran hit .267 with 38 HR and 104 RBI in a season split between the Kansas City Royals and the Houston Astros. Considered by many to be the prize free agent player on the market, the Mets faced competition from the Astros, Cubs and Yankees for the outfielder's services.
NYFS will have more on this story as it develops and will continue to work to get confirmation of the deal.
Copyright, 2005. New York Fan Sites. All Rights Reserved. Secondary reports must credit "NewYorkFanSites.com"

http://mets.nyfansites.com/vitalsigns.php?id=456


the bozos who broke the news that moisty alou was a met are at it again with their super inside mets sources. when was the last time you heard that a free agent signing was pending MLB approval? what kind of kindergarten bullshit is that? and speaking of kindergarten, the man's fucking name is jay horwitz! this guy passes himself off as an internet superhighway mets reporter with team sources, and he doesn't even know how to spell the damn name of the mets public relations guy? the same fuckin' jay horwitz who's been dealing personally with the mets press for over two decades?

that constant horwitz mispelling infuriates me the same way supposed mets fans would spell edgardo "alphonso" for the 8 years he was a met. thank god, he left. i couldn't take that anymore.

Bietch Kim
apparently the new york mets of koreatown flushing by the bay have
interest
in boston's doghouse mutt reliever/starter/ornery middle-finger flasher, byun-hyung kim (henceforth to be called by his abbreviated moniker: bietch kim).
spending the off-season back in the motherland, i'm sure bietch has heard these mets rumors and consulted jilted jae seo about conditions in metsland. i wonder how you say "the mets suck kimchee balls" in korean? that's probably what jae is telling bietch.
anyway, bietch is an intriguing player. yeah, he'll forever be known as a world series choker. yeah, he's got back problems and lost velocity and lost a major league job. yeah, he's ornery and been a malcontent. but, c'mon, he's bietch! after missing out on moisty jokes for the next 2 years, i'd love to have bietch.
Tuesday, January 04, 2005
Stooge-fest hits Puerto Rico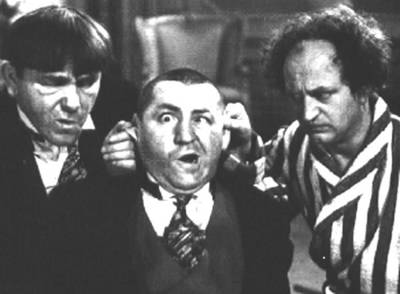 the mets are making a push for carlos beltran in puerto rico.
newsday
is saying the mets are opening with a $100M pitch.
strange thing is right after pay-dro was saying he really appreciated how minayacal omar met him 1-on-1 unlike the cadre of suits boston presented, the mets now decided to attack carlos with a full on stooge-fest. freddie and old, disposed charcoal briquette joined omar for the trip. not wanting to be outmanned, omar had to bring along one of his superscouts, tony bernazard.
for his part, beltran had to, of course, bring his superagent, scott boros. boros felt compelled to bring lackey tom fiore. fiore brought along his doberman, sparky, to even up the sides.
i'm sure freddie's ego didn't like much the fact that omar got so much of the credit for overwhelming pay-dro with more years and money than anybody. actually, we all know it was freddie opening up the wilpon vault and getting the necessary swing votes over the top for approval that actually got the deal done. omar had thanksgiving paella with pay-dro, some more schmoozing and cocktails later on, and a share of the spotlight during the pay-dro media conference.
freddie has to make sure he's more prominent in this beltran business going forward.