Thursday, May 05, 2005
Good Grief, Jae Seo
jae seo upped his record to 2-1 with 7 sparkling innings of 1-hit ball with 8 k's and 2 bb. then he was sent back down to norfolk.
such is life for jae seo.
such is life for the new york mets.
i could write a novel about this, but it's old territory. you know the story anyway.
jae won a rotation job in spring training 2003, but the mets were infatuated with the david cone fantasy, so seo had to wait his turn. then he had a solid rookie season, logging in over 180 innings. but he somehow lost his job and major league spot in spring training 2004 as the mets had some tyler yates/scott erickson fantasy they wanted to play out. it was a wasted year for the discouraged seo. again, in 2005, seo is the victim of inferior numbers as the mets have to figure out what to do with this "depth" they have. the mets are wading neck high in this rotation depth.
doesn't seem possible that seo has options left. seems he's been on the norfolk shuttle a bit too many times already, but i guess the mets know what they're doing right? hmmm.
yeah, seo's been treated like shit overall. it's a wonder he's still battling so hard after having his trade request back to korea or anywhere unfulfilled over the winter. i guess he's still hoping for a deal somewhere, and he's doing his best to impress for that purpose. personally, i hope the mets just figure out what to do with the logjam of crap and get him back up here in time for his next start. that's their thinking, right? it has to be.
Wednesday, May 04, 2005
Glavine's vesting option
i'm getting this info from the
st lucie mets site
:
There are several ways that his contract would vest for the 2006 season. If he pitches a combined 600 innings in 2003-04-05, including 200 innings this season, his contract will automatically kick in at $10.5 million. If he pitches between 580 and 600 innings over the three-year period, including 200 or more innings this year his contract will vest at $9 million and include $1.5 million in incentive bonuses. If he pitches between 560 and 580 innings or 200 innings this season, his contract would vest at $8 million with $2.5 million in incentive bonuses.
There is also a mutual option that can be exercised by Nov. 1 if the vesting numbers haven't been reached. Glavine has the right to exercise the option and the club has until Nov. 10 to pick it up. If the Mets don't pick it up, they can exercise a buyout clause, but if both parties agree on it, Glavine will earn $6.5 million next year with the possibility of earning an additional $4 million in incentives.

tommy pitched 183.1 innings in 2003, 212.1 innings in 2004 (total = 395.2 ip). thus far in 2005, he's tacked on 30.2 ip. (total = 426.1 ip).

therefore, tommy is currently 133.2 innings away from triggering a guaranteed $8m (+ $2.5m incentives) contract year for 2006.

if tommy continues to average a putrid 5 innings or so per start, he will need 26 more starts to hit the magic number. as long as he stays healthy, this will be cutting it close (assuming he remains absolutely stinky), but it is very possible.

my contention is that the mets must make it impossible. if ever a starter deserved to be dropped from the rotation, on a strictly winning baseball decision, it's tom glavine right now.

Tuesday, May 03, 2005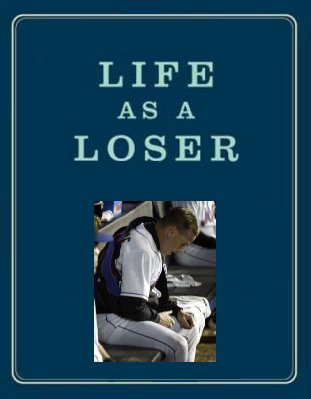 tommy glavine is another of the bad players on the mets you have to feel sorry for. here's a former all-star pitcher who was proceeding on his HOF-bound career when he signs a mega-contract to be the ace for the new york mets. then he crapped out on crappy teams. the only happy moment he can recall as a met was the game the mets let his brother play 1B two septembers back. that's sad. at this point though, the mets aren't as crappy as before, and if there is any familiar lingering crap smell, it's the likes of glavine that's producing it.
i do feel bad for him, but i feel a lot worse for the mets and for myself as a fan. the mets simply cannot allow this man to get his innings in and vest his option for a guaranteed $10.5 M next season.
how many innings does glavine need this season to get that guaranteed 4th year? well, that's not clear. i thought it was 200 ip for 2005 or 600 ip for 2003-2005, but now
metsblog.com
is mentioning that espn had an article saying glavine needed 560 ip. anyway, you slice it, glavine needs at least 25 more crummy starts and at least 150 or so innings more to go.
this cannot happen.
is it too transparent a ploy to drop glavine from the rotation at this point? maybe it is, but the mets just cannot let glavine return with a big sticker price next year.
anna benson's husband returns to the rotation in a couple days. we still have heilman and seo up here, and when i think of trotting tommy boy out there again and again and again and again for the post-pedro flop, it does make the phlegm come up, doesn't it? i'd much rather roll the dice with both aaron and jae. at least they're not mummified yet, and show some youthful effort each time out there in their desperate, last chance bids to finally stick for good here. tommy is playing out his string like the walking dead. he's walking everybody and the mets are dead with him pitching. stop the madness. stop the sadness. stop the badness.
tommy, thanks for trying. the bullpen is out there to your right. you can have a seat next to koo and the gang.
Down on the farm - 5/3

this is a very semi-irregular minor leagues update i post on the MSG messageboard. i know there are some folks who appreciate it there, but on the whole, i don't think most fans follow the mets minor leagues that deeply. so whenever i post it there, i'll put here on the crappy blog too. maybe it'll reach more people who are interested in this stuff like me.
i'm actually a minor league and draft junkie, going back to when i was a little kid, reading all the minor league boxscores in The Sporting News and following guys like Dwight Gooden and Lenny Dykstra while they racked up incredible numbers in A ball. i guess when you follow a traditionally horrible major league team like the mets, you always have your eyes on the kids down below. the wilpon era record with draft picks, phenoms, can't miss blue chips and the sort has been atrocious, but ya still gotta believe.
AAA: norfolk edged durham, 8-7. tides starter jason scobie (4-0, 2.93) got banged around for the first time this year, giving up 5 er in 4.2 ip. cammy got his first rehab game in at AAA, had a single, run and two walks in 5 plate appearances. suddenly, it's become midnight for vic diaz and he's turned into a pumpkin, so cammy's return will be more welcomed than it seemed a short while ago. jeff keppinger remains en fuego, going 4-5 to raise his avg to .380. brian daubach is a triple crown god. he went 2-5 with a bases loaded clearing single for 3 ribbies. he now leads the IL with a .388 avg, 8 hr, and 28 rbis. too bad he only plays 1B. also too bad he's a 33 year old longtime major league vet, not a 23 year old prospect. anyway, daubach was originally a 17th round mets draft pick in 1990. other picks that year? jeromy burnitz (17th overall), aaron ledesma (2nd round), fernando vina (9th round), and darren dreifort (11th round - unsigned).

AA: kevin deaton (2-2, 1.65) looked sharp again, going 6 ip, 2 er, striking out 9, and walking only one for the win. binghamton topped akron, 9-3. permanent binghamton residents jeff duncan (3-4, triple, 2 runs, rbi, bb) and prentice redman (2-4, double, 2 runs, bb) had good nights. both 3B chase lambin (.382) and aarom baldiris (.308) went 2-3.

A: st lucie fell to jupiter, 4-3. starter vicent cordova (2-1, 3.09) didn't give up an earned run in 6.1 ip, but he did give up 3 unearned runs on 3 hits. he struck out 6, walked 2. brett harper (.291) went 2-4 and collected his 27th rbi.

A: gaby hernandez (2-1, 3.25) picked up the win in hagerstown's 11-4 victory over kannapolis. gaby only gave up 1 hit and 2 er in 5 ip, but he walked 5 and k'd 4. matt durkin (1-1, 2.55) followed for 3 innings of 1 hit relief, allowing 1 er, 3 walks, and striking out 2. mighty morphin ambiorex continues to turn the corner, going 2-4 to raise his avg above the mendoza line to .209. he hit homer #4, a double, scored twice and also picked up a walk. tyler davidson (.227) also had a homer (2) and double, collecting 4 rbis on the night.




NEWSFLASH: JOSE REYES WALKS!
this is only a preliminary report. details will follow as they become available. all we know for sure right now is that jose reyes has drawn a bases on balls in tonight's game at shea. fans stormed the field immediately and bedlam broke loose.

apparently, fans dug up first base and stole it. jose reyes was hoisted atop the shoulders of the mob and carried off over the centerfield fence and not seen since. new york city detectives are baffled, but feel confident that both first base and jose reyes will eventually turn up on ebay.