Saturday, April 16, 2005
Ramon's revenge makes it 6 in a row
pedro vs leiter
you know it's usually pretty rare that a much anticipated pitching matchup lives up to its billing, but so far this year, they've been spot-on. a lot of that has to do with pedro continuing to fulfill the promise of returning ace-like pitching to the mets at the top of the rotation. he brought the A game once again this afternoon at shea.
for the bad guys in black, it was the return of aloquacious to flushing, the mouth that roared, and the arm that sometimes soared. the man who never knew how to shut up as a met, and continued to never shut up during the off-season was uncharacteristically silent in the leadup to today's game. duct tape works wonders. to leiter's credit, he did his speaking on the mound, and he gave the marlins a tidy, effective effort, stifling the mets for 7 innings (using up only 104 pitches!) for 1 run on 3 hits. that wouldn't prove to be good enough though.
the mets followed their unfailing winning formula. they had the starting pitching power to match the opponent's and to keep the mets close. that's all the mets need. if they're close, and they can get a crack at the enemy's bullpen, it's been lights out. pedro also went 7 innings with a stellar line: 2 er, 3 hits, 9 k's, 1 bb.
as per script, the mets bats heated up in the 8th as soon as they smelled a reliever out there. the victim this time was veteran todd jones, who got dinged by beltran for the game tying single, and mikey piazza for the go-ahead ground-rule double.
speaking of smelly, poopy pooper came in to protect the lead in the 9th for the winning pitcher of record, mike dejean. pooper came in and did his shit again, blowing the save, but was rescued in the bottom of the 9th. victor "all hit, no field" diaz came through in the clutch again with a 2-out double. ramon castro followed with the game winning single to drive in diaz against his former marlin teammates.
does poopy get awarded the win? he certainly shouldn't. i haven't seen the official box score yet, but the official scorer does have the discretion to award the win to a more deserving pitcher.
continuing sign of caution
: jose reyes went 0-4, lowering his avg (and of course his obp) to .300. he got his usual strikeout, and now has 11 k's this year (and no walks). some folks want to know why i "dislike" reyes so much. i don't dislike him. i like him and root for him as hard as any mets fan. i just point out his flaws, as i do to every player (be it piazza or glavine or cammy or any "star"). reyes has to learn to get on base aside from a basehit. all his speed and electricity is useless if he's just trotting back into the dugout so much. now he can go 5-for-5 tomorrow and raise his april avg back to .400 and people can throw that in my face, but it wouldn't change my opinion at all.
jose's not going to hit .400 this year or any year. he's not even going to have a .400 obp ever in his career unless he pulls a miracle out of his sleeve. but if he is a .300 hitter, which is probably what he is, then he can't also be a .300 obp guy who strikes out 100+ times a year and never walks. that's all. i don't think that's a good pace for my leadoff/tablesetting guy who i want on base as much as possible. that's not good for a season, for a 2 months stretch or a 2 week stretch. jose has to fix that.
i saw kaz learn to take more walks instantly last april and i'm seeing vic diaz do it this april so far. it's possible. i don't expect miracles and for jose to develop rickey henderson's plate awareness overnight, but there has to be some near instant improvement in approach. there hasn't even been the slightest hint of it. in fact, he's regressing. he can change that if he wants. it's always about what jose wants, and for the most part, it's debilitated his rehab approach and time schedule. it's now debilitating his progress as a player.
Friday, April 15, 2005
More Anatomy 101
kaz matsui has now missed a couple games with a scratched cornea. known medically as a corneal abrasion, this is a scratch on the clear outer layer on the front of the eye. matsui has been wearing special contact lenses since february, and the abrasion may have occurred either from wearing them too long or from one accidentally slipping out while sleeping.

the mets discovered that kaz had eye problems in the middle of last season. clues such as his inability to pick up the ball quickly in the field, his errant throws to 1B and his frequent swings and misses at the plate led to an eye exam which diagnosed him as blind as a bat. matsui and the team then did a delicate tango as he basically refused to wear the team recommended corrective goggles for the rest of the season, citing "discomfort."

luckily, kaz had a back injury which basically waylaid him for the rest of the summer, so the idiotic goggles issue was pushed aside and ignored until this february. kaz was fitted for longterm contact lenses. the kind you keep in overnight, except for this particular one which somehow must've sneaked out and damaged his eyeball further.

the japanese ironman is once again missing games in america. we shall be following this saga with interest.



Ya Gotta Believe!
Mets brace themselves for another Heilman start
well, the season's truly come full circle and we've yet to play 10 games. just last week, the mets were attempting to "lose one for the thumb." they lost their 5th straight game with aaron heilman on the mound. now, it's "win one for the thumb" as the mets go for their 5th straight win... and yes, aaron heilman will be on the mound.

heilman is bad. he's downright dreadful. i know that. you know that. but what can we do? this is the hand dealt us, so no whining about "i rather have seo" or "even jose santiago would be better" or "why not promote petit?" we've got to root for heilman and just hope for the best. hey, i'm shocked we've had decent to good enough outings from glavine, ishii and zamboozled all in a row. that's pretty amazing. why can't tack on another good enough outing from our "pedro and four days of prayer" rotation? it's possible. not probable, but certainly in the realm of possibility. i think.

it could be worse. we could have alec porzel or steve szczepanski pitching.

Thursday, April 14, 2005
Franco goes out like a Lamb
wouldn't it be cool if the mets could face john franco every game?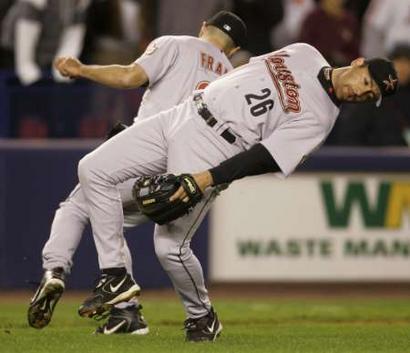 the mets completed a three game sweep over the 'stros with a tough 4-3 victory. the game mirrored last night's game in many ways and showed the same mets grit. as clemens did yesterday, brandon backe was doing a pretty good job at making the mets offense look feeble. backe held a 3-1 lead through 6 innings. victor zamboozled was the mets starter, and he was chomping through pitches again, giving up hits, giving up walks, but in all he kept the mets in the game. the mets bullpen came through again to hold houston scoreless the rest of the way. manny ay caramba was scary again, but no damage was done. that was a big key. getting at
their
bullpen was equally huge, as it was the previous night.

the final similarity was jose reyes and his healthy legs. he got on with an infield hit that got the tying run in. he stole 2B. then he scored the go ahead and eventual winning run on a booted grounder.

what can you say about jose reyes? he's on pace for a 0 bb/162 k season and he's a remarkable presence that's helped sparked the mets to wins.

Today's anatomy lesson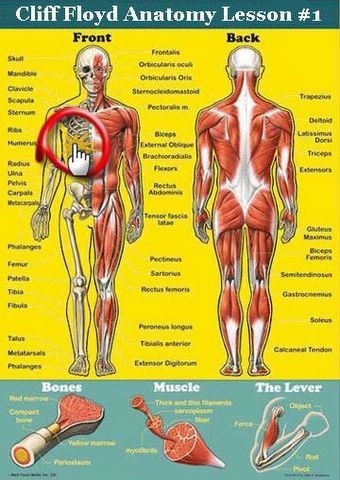 cliff floyd slightly pulled his rib cage during batting practice yesterday. the rib cage is part of the body's skeletal system. it is the bony shield that protects the heart and lungs. men have 12 ribs. believe it or not, women have 12 ribs too.

cliffy is listed as day-to-day. this means that he may or may not play today or tomorrow or whenever. this also means cliffy will have rib cage pain, to some degree, for the rest of the season. this pain may or may not spread to his neck, hips, legs and arms. it's all very unpredictable and modern medicine still cannot accurate gauge the way cliff floyd's body falls apart every season.

please check in on this blog often for more exciting cliff floyd anatomy lessons.

Wednesday, April 13, 2005
Happy Happy, Joy Joy!

shea hey! the streaking mets have made it 3 straight wins now defeating the astros 1-0 on a game winning rbi single by jose reyes in the bottom of the 11th inning.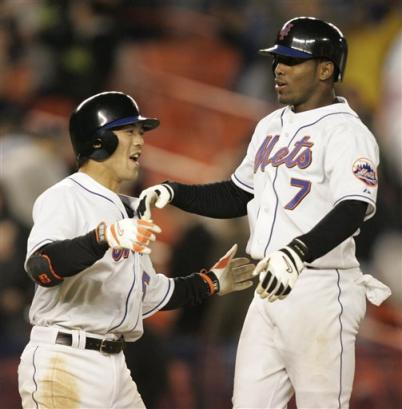 the good: kaz ishii really pitched a stunner, matching roger clemens, and keeping the game deadlocked at naught for 7 innings. both ishii and mr cy young pitched 2-hit ball before turning it over the bullpens. speaking of which, let's hear it for the mets bullpen! they kept the clownsuits in the lockerroom. aged roberto hernandez pitched another shutout inning. poopy pooper... well, the poopman always keeps it interesting, getting out of a bases loaded jam, but hey, 2 scoreless innings is 2 scoreless innings, so good for him. mike dejean pitched the 11th inning to get the win, so let's hope that starts to right his ship too.

the not so good: the bats were asleep tonite. it was clemens, so that's an acceptable excuse. wright, valent and diaz were overwhelmed at the bottom of the lineup, combining for an 0-11 with 8 k's. diaz did salvage his night by getting on base via walk in the 11th and scoring the game winner.

the continued cause for concern: mike piazza -- ugh. another 0'fer tonight, and down to a .130 avg and .259 obp. hey, what's so bad about being dropped in the order? the yankees had giambi, tino and bernie batting 7, 8, 9 tonite against the bosox. that's over 860 hr's. what's this about? pride? winning and helping the team anyway possible gives you pride. period.

Tuesday, April 12, 2005
An off-day Mets IQ test question
1.012
0.957
0.903
0.860
0.806
?????

what's the next number in the series?
the numbers you are looking at are mike piazza's OPS from 2000-2004. seven games into the 2005 season, mikey's OPS is 0.611. a favorite axiom in the financial world is "the trend is your friend." well, this trend is no friend to mikey. father time is the enemy, and it's especially cruel to 36 year old major league catchers.
while piazza is surely free-falling down the slippery slope at a steady pace, it's really shocking how many mets fans live in denial and still think he can miraculously turn back the clock 5 years. this rapid decline is no recent freaky phenoma, folks, so let's get real. god willing, mikey will stay healthy this year, be able to squat behind the plate for 100-110 games and DH in a bunch more, downing enough magical flaxseed oil elixir to send him off respectively. sure, it's possible to end on a nice note and reverse the OPS trend, finishing above .806.
send him off? what's that? yes, mets fans. this will be, for better or worse, the final hurrah for mike piazza, the god, the man, the myth, the met, the professional baseball player. how do i know for sure? how do i know freddie wilpon won't extend him 2 years/$18M to stay a marquee attraction on the NEW mets? how do i know mikey piazza won't jump to the AL to be a 30 hr DH for 3 or 4 more years? because i live on planet earth in a dimension called "reality." so does piazza. he'll bow out gracefully on his own terms, and go lead a spectacular life off the field.
for this season though, how about we end this charade and move mikey out of the cleanup spot? if freddie weren't the devil, piazza would've moved into a more natural and appropriate "supporting" role after the subway series when we signed AROD to be the new centerpiece foundation player of the franchise. that wasn't meant to be as freddie was more concerned about keeping the value of the mets down so he could pull a fast one with a quickie buyout of partner, nelson doubleday.
anyway, the point is mike piazza has been unfairly kept in the spotlight as the centerpiece stud in the lineup since 2001. to have him there eons later in 2005 is beyond ridiculous. i'm not saying piazza can't be a dangerous hitter anymore and strike fear in a pitcher. the moments are just getting much further apart and we have other players who can do the job better batting cleanup, so try it.
Finally getting a chance to hit against Capo Franco, as he wears his signature smirk in a different team's uniform at Shea Stadium: Priceless
Monday, April 11, 2005
Shea is falling apart, but the Mets win again!
the
NEW
mets were overly generous in giving their division and the rest of baseball a head start in 2005, but look out! the streaking mets, aka the comeback kids, have upped their winning streak to two. that's dos, for all our spanish readers (as in "uno, dos, tres, catorce" made famous by the latin crooner, el bono).
first of all, let's give it up for our #2 guy, tommy boy, who did indeed step it up to pitch a tidy "winnable" effort. as usual, he did get tagged early, allowing a run in the 1st inning. just as yesterday, the mets teased everyone by making it look like a 1 run deficit was insurmountable for awhile, but tommy held strong, keeping the mets within striking distance. he even toughed out of a bases loaded jam, which showed the heart and cojones i've been looking for from him.
the mets bullpen clown show showed up again. willie is evidentally hellbent on making manny ay caramba and coup d'etat the weathers/stanton tandem that appears in every damn game to stooge it up on the mound. ay caramba was friggin' lost today and gave up the mets first comeback 3-1 lead. thank god, the mets have sprinkled the rest of the league with a bunch of their clown outcasts. the astros have a bunch of them and displayed them all today. we got to see dan "the runners on the bases go round and round" wheeler, ancient russ springer, and everybody's favorite, the most ancientest of them all, capo johnny. wheeler's been doing a pretty good job as an astro and he continued to do so today. springer and franco were a mess, thank god. the mets scored 5 runs to take the lead and win, 8-4. roberto hernandez pitched a scoreless inning for the win and braden looper got some confidence back, pitching an eventless 9th to wrap it up.
speaking of wraps, shea stadium came undone during the game. the rotating ad in CF got messy. they covered with black tarps that fluttered like donald trump's combover in a tornado. they'll have to fix that.
Willie embraces the devil
No heart, no good
how great has it been to see pedro start his mets career with two wonderful ace-like outings? the mets have gone with pretend aces for so long. chief among them is tommy boy glavine.
tommy took his first year as a met off to nurse his atlanta-loving heart. he was truly disgr
ace
ful. he reported to spring training last year a new man. he said he finally made the mental adjustment and was on board with the mets. his first half was stellar. vintage glavine. then he unravelled, the team sputtered, then nosedived as did tommy boy's production. he was giving heilman-like performances every single damn time out there, digging a 4 or 5 run lead in the first couple innings then settling down for a useless stretch since the game was long over.
ok, i admit to omitting the handful of "decent" outings he had last summer in the above statsheet. four of them were against the expos. pffffftttt.
can tommy boy make up for his hideous mets career so far? no. he's sucked so badly at such high expectations and pocketted so much money, short of suddenly miraculously carrying the mets to a division title this year, glavine is officially a certifiable mets bust.
tommy's a fiasco. freddie wilpon singlehanded wooed this chump as a free agent, wining and dining him, and showing the love with followup phonecalls. remember all that? steve phillips was on a vacation cruise and out of the loop. have you ever heard of a gm going on vacation during the hot stove season? well, that's mets baseball.
i haven't lost all hope for tommy, though. he has sucked. he's been an immense disappointment. he was a career met-killer for atlanta, and he's never stopped killing the mets. i hope to hell that he doesn't reach the 200 innings necessary for his 2006 option to click in. i'll gladly welcome yusmeiro petit or phil humber or any hungry, talented youngster over this aged, heartless, costly carcass.
it's a tightrope. gotta keep rooting for tommy boy each time he takes the mound on the one hand. gotta hope he doesn't threaten that 200 inning threshold. something has to happen for that. either his old body breaks down and he misses time, or he just continues to rack up the awful low inning performances. i guess the former is preferable, though freddie may do something truly idiotic in that case and decide to pick up the option anyway. we'll have to see.
let's go mets. let's go tommy. earn that money.
Sunday, April 10, 2005
Thank you, Big Guy!
And on the 7th day, the Lord took pity on the meek and cursed, and let them sample the sweet taste of victory.

it was a beautiful sunday. i could've spent the time more productively outdoors with the family. i was regretting it more and more as each inning sped by and john smoltz continued to mow down the mets at will. it seemed like a typical mets game... the choking wastes of clutch opportunities, the bonehead moments like when third base coach manny acta tried to snap off jose reyes's legs with a stupid and costly last second stop sign, the futile swings of the entire lineup against a dominating smoltz.

something was a bit different though. for one, the mets had their own ace pitching ace-like. pedro was again in top form. he wasn't ringing up the K's like opening day and like smoltz was doing, but he was in full command and had the necessary pitch count to go deep today. also, for as dominant as smoltz was, he was the guy with the mounting pitch count and who knew how long he could go since he was still a closer trying to stretch his game out? most importantly, the mets remained only a run down. that seems insurmountable in many mets games, but just maybe on this day they could finally catch a break.

then it happened. in the 8th inning, the mets gushed out 5 runs like a premature teenaged boy with blue balls. beltran, floyd and wright (a monster shot to dead center) all smacked their 2nd homers of the young season. an insurance spurt run in the 9th sealed the deal and the mets had won 6-1. pedro got the complete game 2-hitter with 9 K's, and it was all done in a tidy 101 pitches.

so the mets can finally celebrate and fly home with smiles on their faces. it might've been a chilly reception at the shea opener if they came home winless and started off with the losing crap once again. this win changes that. the fans are happy too. nobody's elated. we're just not suicidal anymore.

willie finally can smoke his rancid cigar. i think i'll have one too.

here's to the first win of the year, the first pedro win as a met, the first win for willie as a manager, the first win for the NEW mets. here's to the start of a winning streak!