Sunday, February 27, 2005
1st Sighting: Philip Humber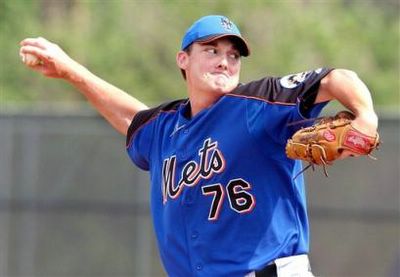 gotta admit the thought of philip humber in uniform and airing it out has me a bit amped up this spring. this kid hasn't thrown a single pitch that counts in professional baseball yet, but i know he's a legitimate prospect with legitimate stuff, unlike the pretend blue chips the mets have made a habit of hyping over the past 20 years or so.

i just wished this dumb OLD organization of last year (to differentiate them from the NEW NEW NEW NEW NEW mets of today) had the foresight and brains to ink him quickly after the draft last june. can you imagine having humber, kazmir, peterson and joselo diaz in the binghamton starting rotation for the summer last year (and as the norfolk rotation this spring)? that would've been a sight to see, and a taste of that might've made the dumb OLD mets forego the moronic "fake pennant race" deadline deals for anna benson's husband and damaged goods victor "you've been" zamboozled. oh well.

the one silver lining about signing humber so late is that the NEW NEW NEW NEW NEW NEW mets can't deal him until a year from his signing date. so relax, mets fans, guru peterson won't be twisting minayacal omar's arm to trade humber for sidney ponson this summer deadline. we might trade lastings milledge and yusmeiro petit for ponson, but them's the breaks.

Post a Comment