Friday, March 04, 2005
how important is pedro martinez to the mets? he's the ace of the staff. without him, the mets have the same faulty rotation that helped bury the team in the 2nd half last season. so when i hear that pedro threw 60 pitches in the team's second spring training game, that gets me twitching nervously.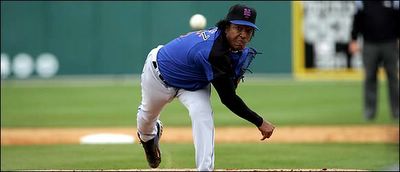 by all accounts, pedro pitched well. two runs scored on a passed ball by mike piazza. you know the history between pedro and mikey. for all the lovey-dovey things they've been saying as new teammates this spring, pedro has always thought mikey is a sucky defensive catcher. his opinion probably hasn't changed much after today's game.

Post a Comment