Monday, March 14, 2005
Trachsel in traction?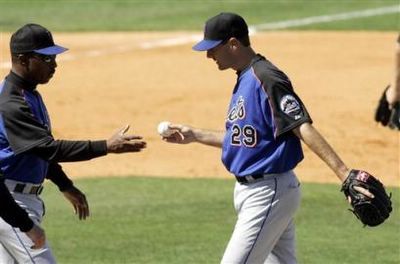 things are getting a little more scary for the allegedly solid mets rotation. not only has vic zamboozled been showing off his rick ankiel tendencies, but now trax is
feeling lower back pain and in nyc getting an MRI
.
trax has been somewhat of a workhorse for the mets, and a very important standout, mediocre cog in the mets rotation since he's been here. he shows up at the gate, usually bringing his mediocre stuff. sometimes he gets in sub-mediocre stretches, as he did for long parts last year. sometimes he gets in pretty good swings, like he did two summers ago. it all balances out to the mediocrity he is. he's also the world's slowest working pitcher, and he makes bad mets games pretty much unbearable if he's pitching on the losing end of a game.
still, trax is needed here. the mets have pedro with his slight labrum problem. they have old man glavine who has given mets fans 1 1/2 years of crap pitching in 2 years. they've got zamboozled, and they've got anna benson's husband. throw in trax, and this is the allegedly solid rotation. take out trax, and then we go into the alleged rotation backup depth, and you DO NOT want to see me rant about that.
feel better, trax.
Post a Comment