Thursday, April 14, 2005
Franco goes out like a Lamb
wouldn't it be cool if the mets could face john franco every game?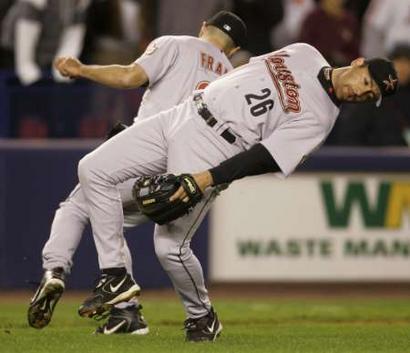 the mets completed a three game sweep over the 'stros with a tough 4-3 victory. the game mirrored last night's game in many ways and showed the same mets grit. as clemens did yesterday, brandon backe was doing a pretty good job at making the mets offense look feeble. backe held a 3-1 lead through 6 innings. victor zamboozled was the mets starter, and he was chomping through pitches again, giving up hits, giving up walks, but in all he kept the mets in the game. the mets bullpen came through again to hold houston scoreless the rest of the way. manny ay caramba was scary again, but no damage was done. that was a big key. getting at
their
bullpen was equally huge, as it was the previous night.

the final similarity was jose reyes and his healthy legs. he got on with an infield hit that got the tying run in. he stole 2B. then he scored the go ahead and eventual winning run on a booted grounder.

what can you say about jose reyes? he's on pace for a 0 bb/162 k season and he's a remarkable presence that's helped sparked the mets to wins.

Post a Comment