Wednesday, April 13, 2005
Happy Happy, Joy Joy!

shea hey! the streaking mets have made it 3 straight wins now defeating the astros 1-0 on a game winning rbi single by jose reyes in the bottom of the 11th inning.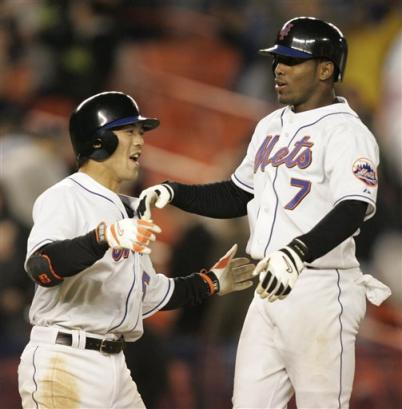 the good: kaz ishii really pitched a stunner, matching roger clemens, and keeping the game deadlocked at naught for 7 innings. both ishii and mr cy young pitched 2-hit ball before turning it over the bullpens. speaking of which, let's hear it for the mets bullpen! they kept the clownsuits in the lockerroom. aged roberto hernandez pitched another shutout inning. poopy pooper... well, the poopman always keeps it interesting, getting out of a bases loaded jam, but hey, 2 scoreless innings is 2 scoreless innings, so good for him. mike dejean pitched the 11th inning to get the win, so let's hope that starts to right his ship too.

the not so good: the bats were asleep tonite. it was clemens, so that's an acceptable excuse. wright, valent and diaz were overwhelmed at the bottom of the lineup, combining for an 0-11 with 8 k's. diaz did salvage his night by getting on base via walk in the 11th and scoring the game winner.

the continued cause for concern: mike piazza -- ugh. another 0'fer tonight, and down to a .130 avg and .259 obp. hey, what's so bad about being dropped in the order? the yankees had giambi, tino and bernie batting 7, 8, 9 tonite against the bosox. that's over 860 hr's. what's this about? pride? winning and helping the team anyway possible gives you pride. period.

Post a Comment