Wednesday, April 06, 2005
Second verse, same as the first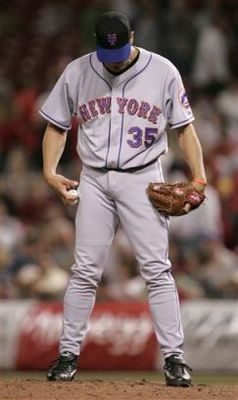 it would've been nice to see some bounceback in the mets after the crushing loss on opening day. alas, like all mets teams of recent years, there wasn't any heart, no guts, no soul to be found. game two ended just as the first, as a disappointing loss.

tommy boy glavine, the 3 month ace for the mets (in two full seasons of service), came out of the gates crappy again. just as he seemingly did every game last summer, he wound up giving up 5 earned runs and the mets had to reach into their godawful bullpen way too early. blame the umps for some balls and strikes calls, if you must, but the glavine was also the recipient of a 25 inch wide plate for most of his career. his first season here was a massacre, and some folks can blame that on questec. his second season was only a half season of good production, and maybe that can be partly blamed on a taxi accident. there's always blame to go around, but as a fan, i just care about results, and tommy boy's haven't passed muster.

manny ay caramba and coup d'etat saw middle relief action for the 2nd straight day and though both were shaky, they escaped unscathed. old relic roberto hernandez actually struck out3 of the 4 batters he faced in a stellar outing. that left mike dejean. mets fans have high hopes for this piece of crap because after he bombed out in baltimore last year he actually gave the mets a month or so of half-decent pitching before getting injured and missing the rest of the year. well, truth be told, he kinda stinks, as he mostly has for his whole career. he got touched up for a grand slam that sealed the deal.

the mets offense did get 12 hits, but as usual, the big inning alluded them. always a clutch hit shy, always too many runners LOB. it's a curse, i tell ya. dougie and david wright got their first homers of the year. both solo jacks. other offensive highlights were kaz matsui with a double, two ribbies, a SB and walk. vic diaz got the start in RF this time and took advantage of it, going 3-4 with a run scored.

the umps ruled that manager willie muffed a double switch in the 8th inning, keeping mike dejean in the lineup for the 9th inning. never saw clueless art howe do that.

crappy 0-2 start for the metsies. the rest of the division is at 1-1. at least it's too early for the mets to have buried themselves.

Post a Comment