Wednesday, May 11, 2005
Darth Shinjo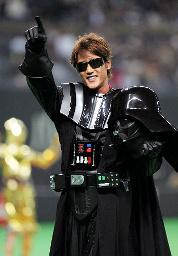 how about the mets trade kazuo for shinjo straight up? say what you want about shinjo's baseball skills (of lack thereof), but he was a cool guy to have around. cooler than pikachu. huh? cooler than ryoko hirosue. who? what? nevermind. cooler than keisuke hoashi? ok, that's going too far.
anyway, what the heck is he doing in this photo?
dig this google translation:
扮 to Shinjo and the dozen * ベイダー, it starts, sphere type professional baseball interchange game
6 when interchange game of the professional baseball starts, Shinjo of the Nippon Meat Packers, Inc. was removed from the forerunner member in the Osaka and Kobe game of the old home. Being because there is Hari in the abdominal muscles, taking important matter, must be.
Even then, those where fan service is not forgotten are Shinjo. " Therefore as for being able to appear in the tournament and or, it being possible this extent ". Before the playing movie the character of the " star * wars ", 扮 to the dozen * ベイダー, it started and did sphere ceremony, it made the fan enjoy which it visits.
Three swings of those which the request of the fan being transmitted, in 8 times appear with pinch-hitting, as for expectation reach to climax. Main part compared to one swift-footed it was and release " of episode 3 " was " the misfire "?
http://www.asahi.com/sports/update/0507/003.html?ts
Whoa -- that classically butchered auto-translation actually gave me stomach cramps. Right before my eyes crossed.
Thanks for the mention, dude! I try to be as cool as possible without getting all Hollywood-y.
And alas, I just did miss getting cast in that Albertson's spot. But hurray, I *did* get the ESPN one! Which turned into not one, but FOUR promos for the "X Games". So keep your eyes open in June when they start to air.
And yes, I am playing the token Oriental gospel choir singer. Also the token Male in the choir. Let me know if you spot it -- or, if you watch CNN, you might catch me in my "ING" spots, too.
That's awesome, man! Congratulations! I didn't know about the ING spots. I've got CNN on right now. :)
Post a Comment