Thursday, May 12, 2005
Draft Profile: Craig Hansen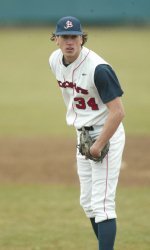 craig hansen is a new york kid attending st. john's university. he's a big kid with what scouts call a "live" arm, which is probably the highest compliment for a prospect pitcher. heck, a "live" arm will still buy you hype when you're a mediocre minor league journeyman like tyler yates or a 30 year project like zambrano/benson.
he's the #1 closer in the draft and will certainly go in the first round even though he's being "advised" by the evil scott boras. right now, he's a two pitch specialist (mid 90's fastball - high 80's slider), plus he's working on a change-up.
the mets are one of the many teams eyeing this guy. in recent years, fast-tracking relievers to the majors has been in vogue (ryan wagner, chad cordero, huston street), and hansen certainly fits the bill as the next one to do it.
obviously with poopy pooper as their current closer, the mets could use a fast-tracked upgrade. hansen could conceivably be in the majors in september if rush-tracked. with boras attached, though, it's certainly going to be costly. after the #9 overall pick, the mets don't select again until the 4th round. they're not in a position to wait and scoop up guys that fall because of boras-fright. they'll have to make their first pick a doozy. hansen is certainly a viable option.
article links:
newsday.com
timesledger.com
baseballamerica.com
Post a Comment